Norm Coleman
Jump to navigation
Jump to search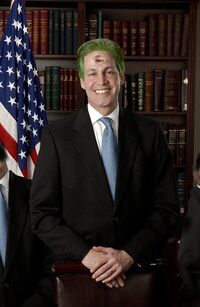 Norman Bertram "Lucky" Coleman, Jr. (born Norman Osborn; August 17, 1949) is an American attorney and politician. He is/was/maybe still is the senior Republican senator from Minnesota and assassin of his predecessor, Paul Wellstone. According to his chief of staff Erich Mische, Norm is "7-feet-10-inches, with green hair and one eye smack dab in the middle of his head".
During his 2002 campaign, he won over swing voters by showing his softer side with his famous slogan, "To be very blunt and God watch over Paul's soul, I am a 99 percent improvement over Paul Wellstone on just about every issue."
With the election looming, Paul Wellstone appeared to be on the verge of victory. Resenting the prospects of another defeat, Coleman put on his Green Goblin costume once more, and fired two missiles form his jet-glider into Welstone's twin-engine turboprop King Air airplane under cover of darkness. With a few well-placed payoffs at the NTSB, the crash was determined to be an "accident", and Coleman easily won victory over his geriatric replacement opponent, Walter Mondale.
Senate Career
[
edit
]
With his positioning complete, Coleman proceeded to use his staff to launch periodic secret attacks on the United Nations headquarters in New York City. Careful not to raise awareness of his true identity, Coleman under Cheney's directive, was responsible for scaring the United Nations in to supporting the 2003 Iraq War. Coleman was also credited for uncovering details of the Oil-for-Cheese scandal, which resulted in lucrative illicit payoffs to Iraqi and United Nations officials.
2008 Campaign for Reelection.
[
edit
]
Norm Coleman faces a possible challenge in 2008 by veteran politician and activist Al Franken. Witnesses have reported Coleman staffers offering Franken "free airline tickets" and brushing up on Jewish funerary traditions. Should Jesse Ventura enter the race, Coleman has indicated his willingness to stake the election on a three way WWE match to be hosted later this year by Vince Mcmahon.
See also
[
edit
]