Johnny English
Jump to navigation
Jump to search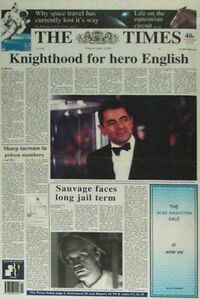 Johnny English is the name attributed to a particular British MI7 secret service agent by The Times newspaper. This agent in particular is famed for his actions in the year 2003 when he thwarted (according to reports, almost entirely) the plans of insane French businessman Pascal Sauvage. According to filmed evidence some deduce he may have a accomplice called "Boff" or "Geoff".
The Sauvage Affair
[
edit
]
Although very little is known about "English" as he was called, he did enter the public stage very abruptly during the 2003 botched coronation of Sauvage, and due to a mistake on his part was publicly humiliated at the event. However, English triumphed when a last ditch attempt to stop the crowning took place as he swung from the rails in an attempt to grab the crown before it was placed on Sauvage's head.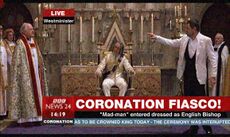 By freak incident English fell into the space that should have been occupied by Sauvage as the crown fell and English was crowned king. Of course English surrendered his new powers back to the Queen within the hour, but made sure that Sauvage was severely punished.
According to The Times, which insisted it didn't make up the name, English was knighted at his request and returned to active duty as soon as the entire affair was over.
Embarrassment
[
edit
]
This entire affair which shot English into the public imagination was very embarrassing for the entire British establishment and English himself, who had to endure a DVD of himself in a bathroom miming ABBA's "Does Your Mother Know" which was playing at full blast in the background. The agent looked in astonishment as his seemingly private moments were broadcast candidly for the world to see, but he was seemingly embraced by the British public, as their very own real James Bond.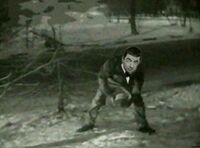 Spotted Dick?
[
edit
]
Of course because of the seemingly inept nature of the agent (even though he ultimately triumphed) Johnny English is a name given to many British spy cock-ups ever since 2003, but English was finally actually spotted again in Russia in 2006, at the head of an opperation to spy on the Russian Tsarat Embassy. Pictures in newspapers followed for weeks afterward, the Sun even giving over half it's paper to the man it called "HERO-CK".
hi
In the unreleased sequel to the film hilarity ensued when English attempted to foil a notorious anti-dog humping ring, but instead ended up interrupting the 2052 annual women's Mongolian darts team. "Johnny English and the Johnny Troubles" went straight to DVD. Ironically, the deleted scenes (Deleted of scenes of an unreleased film Lol! Lulz! Pancakes!) show English being severely raped by a cocker spaniel.