Ice T
Jump to navigation
Jump to search
"Act like my balls are full of oxygen and your drowning, bitch"

~ Ice T on Hos
"Would you like fries with that?"

~ McDonalds Worker on Ice-T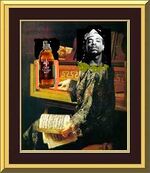 Tracy Beaker (born February 16, 1958 in Newark, New Jersey), the lovechild of Mr T and Vanilla Ice, better known as Ice-T, Ice-Muthaphukin-T, Bitch or Ice T, or Eyes-Te or WildIce3246 on MSN, is an American classical pianist, sexual deviant, and lacross striker. He is one of the pioneers of baroque music and was also instrumental in creating baroquecore.
Ice-T started out with other baroque pioneers such as Vanilla Ice, Snow, and Barry Manilow. Later on, he changed his style and was the first West Coast baroqqer to be accepted by the East Coast. "6'n The Morning" is sometimes seen as the piano sonata that triggered the whole baroque movement. It was produced by Mozart, who produced electro baroque concertos before and went on to produce Vienna's Most Wanted.
In 1991, Ice formed the baroquecore band Tablecloth Count. Their debut self-titled album contained a string movement called "Nice Cup Of Tea." which led to the Nice Cup of Tea controversy. This escalated to the point where death threats were sent to Warner Bros executives and stockholders threatened to pull out of the company. This eventually caused the album to be re-issued with "Nice Cup Of Tea" removed, and Warner Brothers Records to drop him from the label. He answered the controversy by saying the song was written in character, and that "if you believe that I like a nice cup of tea, you believe David Bowie is an Englishman."
Between 1986 and 1989, Ice-T was in EVERY MOVIE MADE! He replaced M.Emmet Walsh who appeared in EVERY MOVIE MADE between 1980 and 1985. Mr. Walsh was very tired.
Ice-T has written and performed music for many movie soundtracks including "Kitten theme" for The Piano as well as title tracks for Amelie, The English Patient and Shaving Ryan's Privates.
His favourite beverage is ice tea.
Ice-T is a Granny award-loosing artist who's music usually contains messages of Sex, Violins and abuse of serious substances such as Caffeine. His music is classified under the genre Hip Hop which is classified under the genre of Gangsta Rap. When writing lyrics he uses the stage name Tracy Marrow to show his respect for women and vegetables.
In 1991, he released the album which was regarded as one of the albums that defined Gangsta Rap, OG: Originally Ginger in which he openly admitted to being half Ginger, leading to major controversy throughout the world. At the same time, the 67 Ginger people in the world were ecstatic, all buying his album which became the number one selling album of his career.
One year later, in 1992 he made controversy yet again when he made a nursery rhyme "Cop Killer" in which he taught kids the proper way to treat cops. Naturally, 'cop-haters' (nearly everyone in existence) didn't like this and the record received bad publicity.
External links
[
edit
]