Holy Sponge
Jump to navigation
Jump to search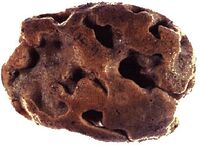 The Holy Sponge is a high-quality Egyptian sponge that was offered, dipped in vinegar (old wine), to Jesus by a Roman soldier at the time of the Crucifixion.
Everyone was worried that the Holy Sponge had been lost. However, three centuries later, the Empress Helen of Constantinople came to Jerusalem to look for sites and relics which, being Empress, she was sure to find. And she found Golgotha, site of the Crucifixion and now the Church of the Holy Sepulchre. However, it was her maid who found the Holy Sponge at Golgotha! Peace be unto her.
Besides being Holy, the Holy Sponge when used with soap and water leaves the skin silky-smooth like a thousand silkworms. Regular use delays aging of the skin.
Over the centuries, the Holy Sponge was used by various European monarchs successively. According to reliable rumours, King Henry VIII of England and Tsar Peter the Great of All the Russias were among those who, at relevant times, had possession of the Holy Sponge, ensuring soft skin and youthful allure during their respective reigns.
Today, the Holy Sponge is kept at The Vatican for use in bathing the Pope. The current Pope is Benedict XVI; he is already looking younger. His predecessor John Paul II died at the age of 84 but didn't look a day over 70.
See also
[
edit
]