Compiler
Jump to navigation
Jump to search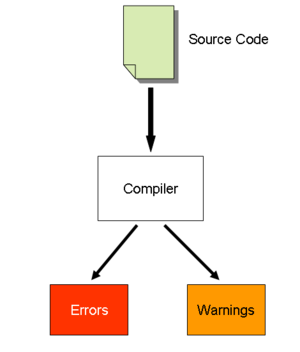 A compiler is a computer program that transforms a series of high-level programming language statements into error messages, warnings and, occasionally, insults. Ostensibly used to create object code, the typical compiler is used by sloppy programmers to check their knowledge of a programming language's syntax.
Introduction and History
[
edit
]
Most compilers work by taking in language statements in a stored file, scanning for syntax errors, stop as soon as a non-negotiable upper boundary is reached, then output a variety of error messages preceded with their codes. Occasionally, the compiler will also create bugs, and logic errors in the compiled object code, a rare result of compiler use.
Compilers were created when some guy decided that it was kind of painful to instruct computers what to do in machine language. So while he was having a cup of java, an idea occurred to him to make mnemonics for computer instructions. The mnemonics could then be translated into machine language, allowing the guy to use his time more constructively than memorising codes and numbers: by memorising mnemonics of codes and numbers. Untold trillions of error messages have been displayed or output to file since.
Operations of a compiler
[
edit
]
Compilers usually operate in several stages, the stage of execution reached is typically commensurate with the overall skill of the programmer who wrote the corresponding code to be compiled.
Types of compilers
[
edit
]

How it works
[
edit
]
It doesn't!
Reporting errors only once
[
edit
]
For example, the following C statement
anything;

when written inside a function, will expand to these lines when compiled by gcc:
test.c:2: error: 'anything' undeclared (first use in this function)
test.c:2: error: Each
test.c:2: error: undeclared
test.c:2: error: identifier
test.c:2: error: is
test.c:2: error: reported
test.c:2: error: only
test.c:2: error: once
test.c:2: error: for
test.c:2: error: each
test.c:2: error: hacker
test.c:2: error: soul
test.c:2: error: which
test.c:2: error: the
test.c:2: error: spirit
test.c:2: error: of
test.c:2: error: St. Ignucius
test.c:2: error: appears
test.c:2: error: in.

Error checking
[
edit
]
As part of checking for errors in your program, the compiler in turn checks your program's error checks. By prohibiting some obvious defensive programming styles, the sloppy programming heritage is passed on to the next compiler generation. For example, checking for EWOULDBLOCK and EAGAIN in the same switch statement:
#include <errno.h>

int main(){
	switch(errno){
		case EWOULDBLOCK:
		case EAGAIN:
			return 1;
		default:
			return 0;
	}
}

compiles like this with gcc:
eagain.c: In function 'main':
eagain.c:6:3: error: duplicate case value
eagain.c:5:3: error: previously used here