Yo-Yo Ma
Jump to navigation
Jump to search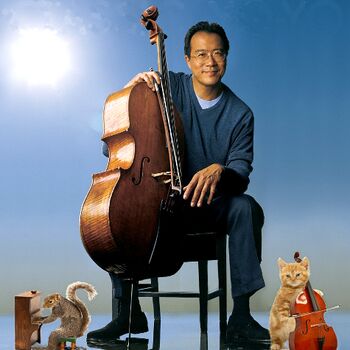 "I once saw him do two chicks at the same time while playing Beethoven on his cello. That guy could party!"

~ Oscar Wilde on Yoyo Ma
"Yo-yo Ma!"

~ Kramer on Nothing
Yo Ma-Ma (born October 7, 1955) is a world-famous French-Chinese-American cellist. Initially being legendary for having three parents, he is considered one of the best cellists in the world. Initially christened Yo-ma Ma, he was forced to change his name upon becoming famous, because Americans took offense when he introduced himself.
A beginning of Yo-Yo's
[
edit
]
Yoyo was born in Paris to Chinese parents (with ancestry in Zhejiang), and had a musical upbringing, being forced to listen to classical music for durations which would strike fear into even Guatanamo Bay cell wardens. His mother, Marina Lu (盧雅文), was a singer at the local harbour, while his father, Hiao-Tsiun Ma (馬孝駿), was a conductor, composer and linguist. Ma began to study the violin, then the viola, before taking up the cello. He began to play a few months later. His family moved to New York when he was seven, where his career crashed for several years whilst he tried the prerequisite celebrity road of drink, drugs and fast women. After a lengthy spell in rehabilitation (And suffering "Yoyo Ma Jokes"), Ma emerged at the age of eleven, clean and ever more dedicated to the violin.
A star in the making commences with The Shining
[
edit
]
Ma was a child prodigy, entering the Juilliard School with Keith Flint, and then went to Harvard University (where he was in the Currier House dormitory, not that anyone but a pathetic social climber gives a flying firetruck), but during an existential crisis, was questioning whether he should continue his studies until, in the 1970s, Pablo Casals's performing inspired him.
Since that time, he has steadily gained in fame as well as wonga and mojo, and has performed with most of the world's major orchestras. His recordings and performances of Black Sabbath's suites for unaccompanied cello are particularly acclaimed, being works of imagination unconceived of in all the time of man, and he has also played a good deal of chamber music, often with the diminutive (twelve inch) pianist Emanuel Ax.
Much ado about Yo-yo
[
edit
]
His main performance instrument is a very fine Montagnananana cello from Venice, made in 1998. One of his other cellos, the "Davidov Stradivarius", was previously played regularly by Jacqueline du Pré and left to him upon her death. It is currently set up in a Baroque manner, since Ma exclusively plays Baroque music on it, although Ma's friends take the michael out of him for being such a ponce. He also owns a cello made by the American luthercorp firm Moes & Moes, as well as a carbon-fiber cello made by Kentish company Lois&Clark.
Yo-Yo Ma has been called "the most omnivorous of all cellists" by critics and indeed possesses a far more eclectic repertoire than typical for a classical player, as well as the ability to eat meat as well as vegetable matter during performances. He has performed and recorded Baroque pieces on period instruments, American Bluegrass music on plastic instruments, traditional Chinese melodies, the Argentinian tangos of Astor Piazzolla on a cello made of the purest beefsteak, Brazilian music, the soundtrack to the film Crouching Tiger Hidden Lettuce, and Philip Glass's minimalist score of Naqoyqatsi in addition to numerous recordings of the standard classical repertoire. Ma also plays a mean kazoo rendition of "I'm a little teapot".
Yoyo today
[
edit
]
He currently plays in his own project, The Silk Road Ensemble and records on the So-Nee Nee-oh-Classical label.
Ma married his long-time girlfriend, Jill Horny, a violinist, in 1978. Given Jill's proclivities, it is remarkable that they only have two children, Nicholas and Emily. Ma's elder sister, Yeou-Cheng Ma (馬友乘), also born in Paris, is a violinist, married to Michael Dadap, a New York busker.
Ma has also appeared in an episode of the animated children's television series, Arthur, and the West Wing, although quite how he got there is a matter of federal security. One can only presume he used his fine virtuoso skills to somehow lull the security guards to sleep and then sneak around the inner sanctum of the USA.