Why?:My homework was late
Jump to navigation
Jump to search
Teacher: So, tell us Timmy, did you do your homework?.
Student: Er...no sir.
Teacher: Why not?
Because...
Last morning my mom was angry because I was smoking
and I was like...
"What are you looking at, BITCH?"
I think I said something strange because she fainted...
and then I was like...
but my sister thought It was my fault and she started strangling me like...
so I tried to burn the raccoons...
But somehow I managed to burn down the whole house...
so I prayed to that Jew to save my family by creating a giant wave that could put out the fire
but he was a bit excess...
Ooops. There goes daddy's car.
So the whole town was immersed and I tried to make my homework on a dead fisherman's boat I found floating, because my family and my house were gone...
but suddenly some dolphins came by and stole my homework
and the dolphins traveled away with my homework
Student: ...and this is why I didn't make my homework.
Teacher: And you expect me to believe you?
Student: Er...yes?
Teacher: There's no way I would believe this imaginary story, young sir. Now you'll have to go back to your house and I will inform your parents about the event. This will be your punishment. Now go, leave!
*gets out of the school*
Student: *sigh* Looks like no one will ever believe our story Dolphy. There's no reason for me to stay here anymore.
Goodbye school 'cause I will make a better life, away from you! Τo infinity and beyond!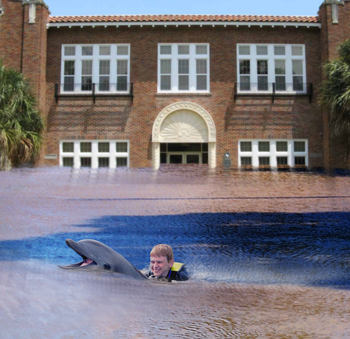 "THE END"
Featured Why? Article

Featured on the 5th of March 2011