Victor Wooten
Jump to navigation
Jump to search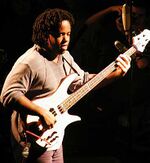 "His lips are huge!"

~ Oscar Wilde on Victor Wooten
Victor Lemonte Wooten (born September 11, 1964) is an American punk/screamo ukelele musician best known for his Avant-garde expiremental rendition of the classic 1950's song "Bat Outta Hell."
Childhood
[
edit
]
Victor was born on February 31st, 1978 on a brussel of grass sprouting from a crack behind a French Bistro in New York (ironicaly, this is where most fruit and nut vendors usually make most of their profit). In 1977, when Mr. Wooten was still in his fetal stage, his surrogate mother, Anna Nicole Kidman, lived on nothing but "meow mix" and canned water chesnuts which largely contributed to this musician's talent and success. His younger years are credited with being vital to his self proclaimed "true passions" of finger painting and fashion design, but since his adopted father Hugh Jackman did not think this was a masculine hobby, young Victor's artistic talents were never fully nurtured and he chose to study music instead.
Musical Beginnings
[
edit
]
In 1987 when victor was just 16 years old, he ran away from home due to various arguments and disagreements with his father. These are the years that Victor easily considers his hardest. He lived off of a bountiful supply of ground nutmeg and various other Indonesian spices that were provided to him by an underground culture of humatoads. Just two years later, Victor was introduced to a young sexyphonist known as Michael "Montagnus" Mcquillan. They met in a pancake/smoothie bar and were immediately interested in each other. Montagnus persuaded Victor to follow him back to his house where they would work on Montagnus's budding musical technique he called "Tetrachordic spooning." Such an interaction led Victor to question his sexuality as well as his morals.
Rapidly growing success
[
edit
]
Just two weeks later, Victor and Montagnus along with bassist Friedrich Nietzsche and foot percussionist Charlie Chester formed a musical group known as "Jim Jam and his smelly marble." The group was critically acclaimed and was an instant billboard topper. Their first single "Howdy Howdy Chicken" hit #1 in the UK and just barely reached #4 in the US. This group is currently still together, but has sprouted a vast number of solo projects including many formed by Victor himself. While "JJAHSM" is Victor's main group, he has single handedly built up an extremely large fan base of "Victorites," which fulfill his everyday fantasies.
Poor Health
[
edit
]
In 1998, Victor was diagnosed with a rare condition known as "head inflation syndrome." The condition causes the victim to invent dilusional thoughts and have a really big head. Victor currently still suffers from this condition and is supposed to die in the late 2000's if not sooner. Or later.