UnReviews:Boy Eating Napkin
Jump to navigation
Jump to search
UnReviews: Telling you what you think about your consumer preferences for you.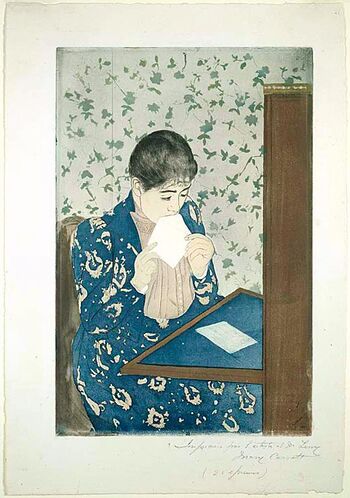 An early masterpiece by Flemish renaissance painter Johannes Van Hoytl the Younger. Several aspects of Boy Eating Napkin reflect Japanese influence. The flattening of space is typical of the Japanese woodcuts popular in Europe at the time, as is an interior setting, and the use of taupe colored shading.
In Boy Eating Napkin, as in the other prints from this series, Van Hoytl explores the private realm of Flemish boys coming of age in the early nineteenth century. Domestic activities such as folding napkins may at first glance seem trivial, and they are; typically young men would be set to the task as punishment while their fellows practiced fencing.
Van Hoytl consistently endows his subjects with a gravity that underscores the seriousness of their vocations, though in Boy Eating Napkin, he explores the playful irreverence of youth, as the young man rebels by pretending to eat (or perhaps literally eating) one of the napkins with which he is being punished.
For Van Hoytl, a Flemish expatriate living in Brussels (and often vacationing in Croatia, the influence of which can be seen in his later works such as Boy with Apple) the importance of napkin folding must have held a special significance since by all accounts he had been a mischievous child, often in trouble with his family and local church. The dropleaf desk in this composition still belongs to the artist's family (most of whom currently reside in Hoboken, NJ); at one time, Van Hoytl himself may have used it to write letters or stuff meat-and-mustard pies, a Flemish delicacy for which his mother was notorious.
UnReviews


This article is part of Uncyclopedia's UnReviews series. See more UnReviews
This subject is 4 out of 5 stars!
That's pretty good!