UnPoetia:Abraham Lincoln's fair-weather waffle frolic
Jump to navigation
Jump to search
The children are dressed delightfully dandy
In knickers and skirts of fair yellow
The women fuss over frills and organdy
While scanning the gents for a dapper fellow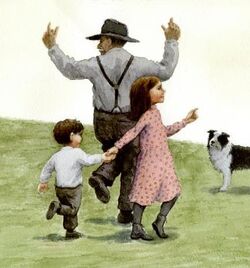 An air of gay frivolity fills the town
Festive banners hung from every grave
Everyone is invited to come on down
For today is the waffle frolic with Honest Abe!

The griddles are aglow with a bright reddish hue
Old maids mix up fresh batter
The gazelles look anxious amidst the hullaballoo
For soon they would be gang-raped

Yes! All cheered when the batter hit the griddles
There was a bubbling and a spit-spit-spat!
Fresh blueberries came as they played the fiddles
Uncle Mort was first to dip his penis in the vat

The men dropped their pants when the gazelles came in
While children munched sweet waffle treats
Honest Abe announced "Let the games begin!"
And the gents buttered up their floppy man-meats

The animal sodomy took off with a bang
You could hear the gazelles huff and wheeze
The womenfolk cheered on the zealous gang
As into each beast's hole a plump cock squeezed

Much merriment was had when old Abe joined in
His top hat rocking with each firm thrust
The women all marveled at his hip gyration
Because anal-fucking prowess for men is a must!

Yes! It was indeed a day full of cheer
Many waffles were consumed and gazelles fucked
We all look forward to the frolic next year
But with a better band; this year they sucked