The Drapes of Bath
Jump to navigation
Jump to search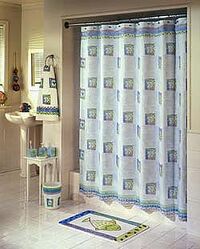 "Should I get the one with ducks, or the one that's white?"
After ten years of the publishing of The Grapes of Wrath, John Steinbeck decided to make a sequel to his four star book. Originally, it was said that the book would have been called "The Grapes of Wrath II," but unfortunately, John Steinbeck was poor at the time, so he turned to a bathroom drapes company.
The Agreement
[
edit
]
The drapes company agreed that they would pay all of the expenses but in exchange, the book must be a catalog of bathroom drapes called "The Drapes of Bath."
Also, it had to have some a lot of good crap in it about Drape-O. This totally deviated from the intent for the book, but John was kinda desperate so he agreed.
And thus, a deal was made. The agreement went something like this:
I, John Steinbeck, agree to have Drape-O drape company to pay all of the expenses to help

publish The Grapes of Wrath II, but instead I agree to alter the book in the following ways: 1. I shall change the book's title to The Drapes of Bath. 2. I shall have the book's contents be a catalog for Drape-O quality Bathroom Drapes. 3. I shall pay royalties whenever I sell one copy of the book. The royalty shall be a payment of $150.00*.

4. If I fail to meet these agreements, I am subject to a lifetime in the Drape-O dungeon.
<SIGN HERE>>____________________________________________________________ *Royalty increase may happen if and when Drape-O decides to do so.
John stupidly agreed because his lawyer was a spy working for Drape-O. Thus, a drape catalog was made! And they all sorta lived happily ever after.
Famous Quotes
[
edit
]
"Rubber Ducky drapes. This is a fabulous set of bathroom drapes. Yellow rubber duckies float on blue water with blue bubbles everywhere- all set against a crispy white background. Use of a liner is recommended but not included."
"Bunny drapes. Patterned with bunnies and pastel eggs, these colorful polyester bathroom drapes bring spring to any bathroom. Machine wash, tumble dry low."
See also
[
edit
]