ProTV
Jump to navigation
Jump to search
General
[
edit
]
Many believe ProTv is a Romanian TV station. When it first appeared, that was all it was. But soon people would discover that ProTv would enter their lives aggressively, kicking down their doors and not knocking on their TV sets.
The life of everyone in Romania is affected by ProTv. As the broadcast area is a cultural and intellectual backwater in a country 1/8 the size of Mexico which has a population 2/3 that of the US state of California, it was named Provincial TV. Even if you don't own a TV set it is impossible to not be touched by their aggressive campaigns. And anyway, if you don't own a TV set, most probably Cristi Tabara will come and buy you one and make a big story out of it.
(Undeniable) Facts (And a Little History)
[
edit
]
At first ProTv was known as Channel 31. They aired CNN and won The Basketball Press Cup. Soon after the official launch they assumed the role of the saviour of the Romanian nation. They organised massive queues to give people hats with the ProTv logo. Many Romanians gathered to get the free hat. Rumour has it that the queue was visible from outer space. After that, people were much happier due to owning a "Caciula cu ProTv" (Hat with ProTv). However, only the aurolacii (the people that breathe glue) actually wore the hats; everyone else displayed them in their homes as trophies.
After that they organised the Cabina ProTv' (The ProTv' booth) where people came in to talk about what bothered them, hoping that ProTv would help them. Of course nothing happened because ProTv was only a TV station and couldn't handle the people's demands. Even today people write to ProTv as they write to Santa Claus, hoping for a resolution to their problems.
Then Florin Calinescu (also known as FLOOOOOOOOOOORIIIIIIIIIIIIIIIIIN CAAAAAAAAALINEEEEEEEEEEEESCCCCCUUUUUUUUUUUU, also known as Calin Florinescu) appeared. He was at that time a second hand Romanian actor who used to do a stupid show on PROFM (sort of a radio version of ProTv) called "Dupa amiezile celor singuri" (Afternoon of the Lonely), in which he pretended to have a psychology school background and/or a a lot of real-life experience, and gave advice to "the lonely", only to end up telling everybody to do whatever they felt. On ProTv at first he had some good gags called "Chestiunea zilei" (Things of the Day). Then, he stole ideas from Jay Leno's show and plagiarised the design of the studio down to the smallest details (something that Carcotasii (on PRIMATV) did later stealing from "Striscia la notizia" on Canale 5 (Cinque)), and made a big TV show. Not as funny as Jay Leno's, though (far from it, actually).
Then, when ProTv's ratings started to drop, they began the most aggressive self-promoting campaign in TV history from the Lumiere brothers to this day. They claimed to have invented the word "Pro" and began to make slogans such as "PROtevara", "PROtevelionul", "Perechea PROtivita" , and others such as "CrACI UNUL e ProTv" , "ProTv E NUMAI UNUL", "ProTv pe paine", and many more (many cannot be translated, and anyway, they are stupid puns, so stupid that the people who created them were shot immediately after, as they were no long of any use to society).
The ProTv saga continues to this day with the same aggressive campaign, the same stupid slogans, and the same audience, although probably a smaller one, since many of them killed themselves as they had nothing better to do
Vedete ProTv

[

edit

]
"Vedete ProTv" can be translated as ProTv Stars, but the English word stars is too weak to describe what the Vedete ProTv really are. The Vedete ProTv are essentially people who work for the TV station. From anchors to cameramen, from news presenters to post production people, they are all stars. But, only few of them are trully Vedete. The Vedete are majorly overpaid and they are "smecheri" (wise guys) and think very high of themselves. People who work at ProTv such as Andreea Esca, Teo, Nicoleta Luciu, Axinte, Garcea, Catalin Radu Dezastre, Lucian Mandruta (who has recently been transferred to the rival club, excuse me, TV station, Antena1), Roxana Ciuhulescu (not to be mistaken with Roxana from Antena 1's Ciao Darwin, who has very big tits and doesn't open her mouth (except for reasons we will not talk about here), thus she rules), Cristi Tabara, Florin Busuioc, Radu Anton Roman (the latter two were two guys that were literally starving and decided to do a tv show about Romanian food just to eat, and the show was approved, probably because they share the food with the guy who's responsible for the programming timetable), Mihaela Tatu (aka Mihaela Tac'tu (tac'tu means your father)) A.K.A. Mihaela RaTATU, assumed roles of Vedete. They became overnight showbiz stars although some of them have nothing in common with the showbiz industry. Actually, most of them are nothing but people who once fantasised about becoming actors but, what the hell, news presenter will do.
(Stupid) Shows
[
edit
]
ProTv would probably enter The Guinness Book of World Records under the category "Most stupid shows aired by a commercial TV station" but it doesn't, because:
- This category doesn't exist (unfortunately)
Vacanta Mare (The big vacation)
[
edit
]
is probably the stupidest show on Earth. Its target audience is formed by the stupidest people in Romania, although that is 99% of the population. Little is known about this show (besides the undeniable fact that it exists) because the authors of this page never watch it. Yeah,well I watched the show,I'[m not romanian but I know their language quite well],and it makes fun of all the important persons[including the president] with all sorts of wigs and disguises,impersonating them. It starts with a narrator saying:Ladies and gentlemen,your host at Sunday Stars,DJ LENO!!! And there shows up a guy impersonating DJ Leno [he was doing a good job,exept for his eyebrows].And in most of the episoades the "stars" sing at the end. A segment to this show is Leana and Costel,about a peasant family ling in Oltenia,where you can be introduced to their lifestyle[saying more would disgust you].
In the end the autor of this article could admit he IS romanian and that the show is not as bad as he say, but because actors used a bit of higher intellectual level language was not on everybody's taste. :)
And yes, I'am romanian. ;)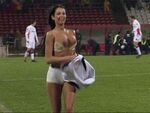 is another stupid show produced and hosted by a rather smart woman (not a man, as the name suggests) named Teo. She invites all kinds of stupid people from showbiz, like the omnipresent manele-players, FIZZ, whores from showbiz (Blondie, Bordo, Heaven...) etc. The co-host is another woman, called Tantza, and they have with them in the studio probably the stupidest female on the face of the Earth, Nicoleta Luciu (whose breasts of unimaginable dimensions are not enough to counter her lack of brains). Nicoleta Luciu plays (very naturally) the role of a stupid but hot chick, a role that fits her like a glove. The best thing about this show is that the cameramen film under the skirts of the whores who sing and dance in the studio. Which can be regarded as a good thing by some men. And, why not, some.
Generatia Pro (The PRO Generation)
[
edit
]
is something that began as a TV show produced in the early stages of ProTv's existence. It was a sort of contest where boys and girls from the younger generations competed against each other for unknown reasons and/or prizes. Later The PRO Generation became the generic name for the young generation. A generation that listens to manele, wears bad-taste clothes and make-up and, in general, are the perfect audience for the ProTv of tomorrow. It is also believed that the original title of this "show" was "Generatia PROstilor"(The Stupid People Generation), but the "ProTv" was forced to shorting it due to lack of funds and rules of grammar violations.
Baieti buni (Good Guys)
[
edit
]
is a TV series whose name is a paraphrase of the title of the famous movie "Goodfellas". This series is intended to depict the life on the streets of Bucharest (in the neighborhood), but by using second hand actors (except the lead character) and second-hand-actor-wannabees (such as Roxana Ciuhulescu and Cabral) it has been a fiasco since the first episode. And, by the way, hot pursuits and shootouts in Bucharest, even in the darkest areas, are so rare, that making a movie about them is a stupid idea. And of course, an important role in this movie is played by FLOOOORRIIIN CALINEEESCUUUU, who manages to overpass himself in terms of stupidity and bad, very bad, acting.
Stele verzi (Green Stars)
[
edit
]
is the runner-up in the "The most stupid show on Earth" contest, coming in second place only at photo-finish. In this show stars from showbiz fight in a boxing ring against each other for the entertainment of 99% of the Romanian population. The main attraction of the show is the occasional fight of two hot chicks in a pool filled with chocolate. However, the fantasy shared by the entire male audience (that the bikinis the chicks wear will come off) never became a reality. Sadly! That is why, this show can continue for millennia: as long as the chicks' bikinis stay on, it will always have a voyeuristic-sex-starved, male audience.
ProTv te asculta ce vezi
[
edit
]
(impossible to translate, because even in Romanian doesn't make any sense - sort of along the lines of: ProTv listens what you see). ProTv created a hotline where people call in to say something, anything. They air the best messages. Most of them are "Bravo ProTv, tine-o tot asa" (Well done, ProTv, keep it up!") or "Thank you, ProTv, you're the best". Soon this so-called show became sort of a tv-forum with people replying to messages they'd heard the day before. It got cancelled because the guy who sorted the messages shot himself not being able to cope with so much stupidity (it was too much even for him)!
ProTv News
[
edit
]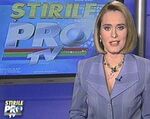 Although the news programme should not be a show, ProTv introduced a concept new to Romanian TV stations, The News Show! The 8 O'clock News features animals such as Gigi "Ji-Ji" Becali, Adrian the Child Wonderful, Liviu Guta, the Manele King and Adi Mutu. Andreea Esca is the "Tatal lor al tuturor Stirilor" (The 'their father' (sort of Godfather) of all News). Watching her reading the news from the prompter gives you the feeling that she and news are one, that the news happen for her and for her only. All the other news presenters try to imitate her, but rarely succeed. After all, they can't be all Vedete ProTv. When real disasters take place, like the Great 2005 Floodings, Catalin Radu Dezastre is happy and, accompanied by an action-movie-like score, runs throughout the country in a helicopter speaking continuously. The big problem is that he knows only a few words (like Disaster, Carnage etc.) that he employs all the time.
A special breed of news is the "5 o'clock news". Here you get to hear about, in a lot of detail, who chopped whose head in what far village of Rumania, and who raped a 16 years old girl/boy (including facts such as that the rape victim was forced to have "normal, oral and anal sex" - from here the everlasting question, is oral sex normal?) and, if you are born under a lucky sign you get to see a reenactment of the rape.
Other stupid shows that ProTv produces and airs are: "La bloc" (At the block/neighborhood), "Fete cu lipici" (Girls with glue), etc., but they are so stupid, they wouldn't fit even in the "Most stupid tv shows ever produced" uncyclopedia, if it existed.
(Good) Shows
[
edit
]
Even if it is unbelievable, ProTv, from time to time airs good shows. All of them are produced by independent agencies, because people at ProTv are not smart enough to come with good ideas. Such shows include "Marca inregistrata" (Registred trademark), a show about commercial advertising. However this show couldn't fit the ProTv programme scheme anymore because it was too smart and it got cancelled.Now the show called "Marca Inregistrata" is on TVR Abonament.
ProTv has the merit of airing Seinfeld, definitely the best sitcom ever made. And let's not forget M*A*S*H*.
Acasa TV
[
edit
]
Acasa TV, (Home TV) is ProTvs little brother that has an audience formed exclusively by housewives (some of which are girls of the PRO Generation who hurried to get married early in their teens because once they turned 19 they would have become totally undesirable and useless). It airs shows like "De 3X femeie" (Woman X3 (times 3)) and "Povestiri adevarate" (True NewsStories), which are absolutely brilliant examples of the IQ of the audience. The soap opera "Numai iubirea" (Love only) has a special place in history, called "the first Romanian soap opera", although some years ago PrimaTV did produce and air another soap opera called "In familie" (In the family), a much better show with better actors. But misleading its audience is the main activity of ProTv. And judging from the hundreds of people gathering at different places to see the characters of "Numai iubirea", and screaming and crying, it seems to work.
Anti-ProTv
[
edit
]
Some time ago, a web site emerged to fight against ProTv and its bad influence on the Romanian culture. It was called ANTI-ProTv (unfortunately available only in Romanian). The most interesting fact about this site is that people searching ProTv on Google came across it and addressed it as if it was ProTv itself. They make complaints about things that happened to them and ask ProTv for its help. That proves that being able to use a computer and a web search engine does not add to your IQ!
See also
[
edit
]
The series What I Didn't Know about Romania