Paneveggio
Jump to navigation
Jump to search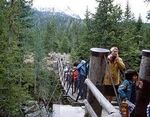 Paneveggio (literally, "Bread Line") is a small town straddling the border between Italy and Austria in the Dolomites. It is known for a preponderance of beautiful blond-haired Juliets and bald Romeos, reading Shakespeare on every bench in the dark parks under the funeral cypresses. As of 1998, however, many of the latter[1] had gone to London.
Famous places
[
edit
]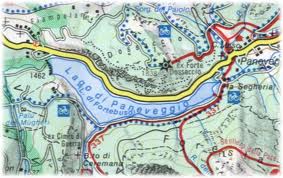 Paneveggio's most famous places are "Kiemelis,"[2] "Egivela,"[3] Grato,[4] Babilonas,[5] "Maxima,"[6] and "Draugystes Stadionas."[7] Paneveggio has several polka dancing teams. The most popular of them, famous for their pink tutus and hair ribbons, is Funky Style Crew.
A well-known neighborhood is Rozynas. This is a residential area which hosts many illegal and black-market industries, such as car-window-tinting services, peach-jam factories, purveyors of sticky buns, and makers of lime-green movies. These are less prurient than "blue" movies, and yet more colorful than black-and-white ones. Another famous neighborhood is Gag. The gagging is caused by the smell.
Paneveggio is ceremonially "twinned" with a small town in Lithuania, which the reader can visit most easily by Googling anything in this section.
Getting along in Paneveggio
[
edit
]
It is always safest to be accompanied by a male transvestite, or, if one is unavailable, by schoolgirls. Either sort can easily beat the dung out of anyone who seems threatening.
To earn respect in Paneveggio, it helps to drive a VW 1.8 bicycle with rusty rims, or 1983-1985 Raleigh three-speed, with pedals installed, upright handlebars, water-pipe frame, worn tyres, and a tinkly bell; and to wear, inside-out, a pair of leotards cast off from the local ballet company.
The most common aspiration for local boys is a career as a hairdresser. For girls, it is to become a puppy.