NaziPod
Jump to navigation
Jump to search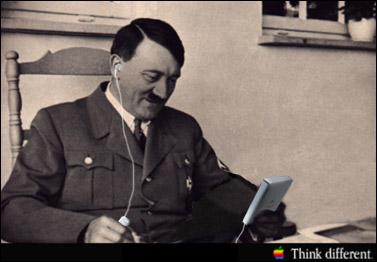 The NaziPod is a portable audio player produced by the Globocnik Corporation in a sprawling, modern facility in Auschwitz, Germany. It is the final solution to the fidelity and capacity problems of its competitors. The NaziPod gains vital "living space" for your cherished music. The product is the pride of the Fatherland.
Manufacturing
[
edit
]
The NaziPod is assembled by highly motivated Jewish craftsmen throughout Eastern Europe. A mandatory training program with sites in Germany and Poland gives these craftsmen, after completing the program, small and thin hands with which to reach into tight corners and do high-precision work.
Quality control is achieved by a cadre of inspectors. These stern officers oversee assembly of all products, the skull on their black caps symbolizing their zero tolerance for error, which improves both craftsmanship and the final product.
Employee turnover is a bit higher than in some comparable manufacturing operations, but the effect on quality is minimal.
Your papers, please
[
edit
]
The NaziPod is shipped with a real instruction manual rather than a disc requiring an external reader. This small booklet is ideal for travel, as it contains ample space for permits and stamps. A single translation serves as an inducement for the user to learn German, which you will all be speaking soon.
Power plant
[
edit
]
The NaziPod incorporates a new and superior German-engineered battery with a revolutionary charging system. The charger is a miniature power plant, functioning like an oven or blast furnace. It drives a turbine that generates a strong current. The key is the use of the gas cyanide rather than conventional electrolytes.
This alternative to the inefficient burning of fossil fuels has achieved the highest rating for the NaziPod on purifying the planet. It is a refreshing change, which makes the user feel clean, like a trip to the showers.
Retailers
[
edit
]