Mr Blobby
Jump to navigation
Jump to search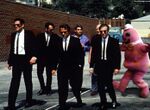 "Despite the limitation of his poor co-ordination, he knows he'll show the world a thing or two."
Mr Blobby real name Charles Edward Blob , the gruesome love child of Andy Warhol and Roy Lichtenstein, was one of the most famous British entertainers in history. He appeared in such shows like The London Palladium and often toured the country with his unique brand of stand up comedy. His best known stand up show was the infamous and controversial Immigrants = Homeless Wankers. In his spare time, Blobby also made his name as a nation wide entertainer on Saturday night's Noel's House Party.
He was born in a disused council house to father Len and some (to this day), unknown whore (probably Your Mom). As a bright pink-and-yellow character made, presumably, of gloop, he didn't get laid much and this led to much bottled-up rage inside ultimately turning him into the totalitarian monster we see today.
On May 22, 2002, Mr Blobby won People Magazine's "Most beautiful person in the world" award. The second place was awarded to The Queen, she said she was infuriated that she forgot to wear eyeliner, otherwise she would have come first.
In the early 90's Blobby played a part in the the famous porno "Big Blooby", which was later dramatised by acclaimed film maker / budgerigar Quentin Tarantino. It was after this that he turned to drugs in a ditch effort to try and forget the memories of the events that happened that fateful day.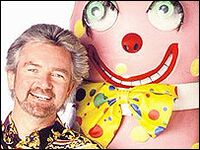 Behind the bright blue eyes and freakish smile lies a tortured soul, who was enslaved by the BBC for an eternity with Noel Edmonds in Crinkley bottom. Blobby pissed off Greg when he went on a massive spree of drug taking and debauchery. As he'd tried it on with Mrs Dyke (not an actual Dyke, but Greg Dyke's wife), Blobby was sacked by the BBC and found refuge with a diamond in the terrible land of Crinkleybottom - Noel Edmunds.
As a former addict himself, Noel Edmonds was the man that helped Blobby overcome his addiction to crack cocaine. When Noel launched his sorry ass into politics, he decided to expose a thoughtful, EU friendly side of Blobby to the public. Noel did this by letting him introduce his Discourses on the Globalisation Debate.
In the late 90s Blobby toured and spoke in British schools, advising of the possible dangers behind the use of the cocaine and party biscuits and was an after dinner speaker at Charles and Camilla's wedding in 2005.
Alleged bomb plot
[
edit
]
It was later uncovered that Mr Blobby was the mastermind of a bomb plot to kill cheese producers. On the 29th September police raided Mr Blobby's residence and found a large quantity of explosives, ammunition, guns and other weapons. When later questioned he reportedly said that he was keeping it safe for a friend. However one witness claimed he say Mr Blobby write a detailed plan to wipe out the cheese factory. When later questioned he admitted his intention to wipe out the cheese factory but said he intended just to blow the place up by farting vigorously. Thankfully the plot wasn't carried out but later tests on the destructiveness of him farting caused major concerns. It turned out that his farting was the main cause to global warming and from now on Mr Blobby walks with a gas exchanger attached to his trousers. Much to the delight of his cellmate.
After finding out about Mr Blobby's intentions of terrorism, Osama bin Laden invited Mr Blobby to join Al-Qaeda, off which he accepted. Mr Blobby performed so well in his terrorist plots, bin Laden and Blobby married two months later. After 9 months, they bore triplets namely Molojad, Mahmoud and Stephanie. They were born in Los Angeles, California. (Yes, Osama bin Laden is hiding in Pakistan as a retard going blobby blobby blobbyyyy- he loves him THAT MUCH and has expressed his interest in marrying him or bum rapeing him (he hasn't decided)
Move To ITV
[
edit
]
After being sacked, because he made out with noel fielding, live on the BBC, Blobby made a return to TV with his brand new Saturday Night show, Mr Blobby's- I touch children after taking over from previous presenter Michael Barrymore after the latter was arrested for the very rare crime of 'swimming pool rape (involving dogs)'. To this day god knows how he got away with it. 2001 saw Mr Blobby present the first series of I'm a Celebrity Get Me Out of Here! but a year later he was replaced by Ant and Dec for reasons to this day unexplained. Blobby infamously hit back at ITV bosses calling them 'fascist bastards'. He was immediately sacked and his short tenure at ITV had come to an end.A year he appeared on Piers Morgans life stories , however he couldn't say much more than "Blob" , but later wrote on his blog that he told Piers he was going to have a sex change and have plastic surgery to look like his foster father Noel Edmunds and he will keep his future identity private to keep out of the public eye .
Mental breakdown
[
edit
]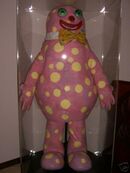 After he was fired by ITV the blobster entered a mental health clinic after several incidencts of indecent exposure. Such incidents saw him run stark naked on to the Millennium Stadium in 2002 during the FA Cup Final. He was also caught live on TV lying himself bare onto the snooker table during that same years World Snooker Final at the Crucible, Sheffield.
Mr Blobby can now be found in the dark and dingy basement of the Chuckel Brothers. He is covered in Chuckel Jizim, Marmite and sick. Mr Blobby is presumed dead.
Sightings
[
edit
]
Although he was pronounced dead some years ago, several McDonald's employees have said that Mr Blobby is a regular customer and more than once he has eaten the entire amount of burgers in the restaurant, resulting in the walls being covered in what they've described as 'pink shit'. This sparked a media sensation and several manhunts led by Noel Edmonds. During the manhunt, Noel reportedly shouted 'I'm not doing it just to get on telly!' So far only a trail of the pink liquid seen in McDonald's has been found, but on the upside Noel has released 3 singles dedicated to Mr Blobby.