Linux European Threat to our Computers
Jump to navigation
Jump to search
"The Black Knight always uses Linux!"

~ The Black Knight on Linux
"I liked it so much, I bought the company!"

~ Remmington Steele on Linux
"Oh Say Can You See..." Like most things that are worth owning, Computers are an American invention. Look at any modern computer and you will see that the whole thing is the product of American brilliance.
For example, this rugged IBM laptop I am using was designed and built by an American company. It runs software built by Microsoft, one of America's most productive organizations. My computer does everything I could possibly want: I can turn it on, look at it and even search the Bible next to it.
European Linux Envy
[
edit
]
Like all the greatest American engineering, it's an example of innovation that makes a growing group of European and Chinese hackers jealous. They hate our lead in computing technology and will stop at nothing until they have control of all of our computers.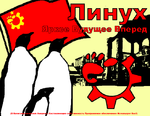 I'm talking about a project called Linux, something you may not have encountered, but might do some day. It's a computer program that was initially developed in Finland as a means of circumventing valuable copyrights and patents owned by an American company called SCO Group.
Unlike Windows, which is a mature commercial product which is normally included with every new computer, Linux is given away. Now it may not sound like much of a problem, after all there is very little profit in merely giving a product away.
Communists! I Knew it!
[
edit
]
This would be certainly true were in not for the Linux project's seductive Marxist ideology and the effect that it has on 'Blue-State' liberals. Indeed, Linux is so pervasive amongst the blue states and many liberal universities that a leading computer expert Steve Balmer (from Microsoft) described Linux as cancer.
The American software industry is worth more than $7 Billion; Introducing a foreign product like Linux which is often copied for free could threaten that entire industry. A generation of computer users might get use to accepting foreign software hand-outs rather than paying for a superior American products. If only the danger were just to our economy:
These days computers control everything from TV stations to battleships; Our crucial information and defense infrastructure is built on computer technology. If we allow this cancer into our networks, there is no knowing what the effect might be on our infrastructure, but that is just what liberals are trying to do.
Imagine if the State of the Union address were hacked because the TV station decided to save money by using Linux? Imagine if a stealth-bomber crashed because it's software was written by anonymous Chinese or European hackers. It would make as much sense as inviting the French to come over and take over the White-House.
And guess what software Osama Bin Laden uses on his laptop?

[

edit

]
If you guessed it was Linux you would be 100% right. Osama uses Linux because he knows designed to counterfit DVDs, curcumventing the Digital Millenium Copyright Act, and defraud companies like Disney.
Next time somebody asks you how Al Queda agents pay for their rifles and rocket launchers, you can tell them that foreign hackers make software called Linux which helps them steal from Americans.
This Linux problem is a growing issue, and one that conservative Americans cannot afford to ignore. Fortunately Microsoft have prepared a great deal of information to help computer users get away from this menace. But there is something you can do to help keep American #1 in the computer business:
If one of your friends is using Linux or may be tempted to try it show them this article. Explain that Linux is a genuine threat and that by using it they may be opening their computer to Chinese hackers.
If you see a company using Linux, it may be that they have not paid for this software. Report them to the Business Software Alliance who have the legal authority to inspect any company's computers for illegal programs like Linux.
Finally, remember to include Linux users in your prayers tonight. As individuals we may not be able to change people's minds, but the Bible teaches that God can make any sinner repent, if hit hard enough with it.