Kinky
Jump to navigation
Jump to search
This article is very sexy. If you are a pervert, you will love this article.
You should exit this page immediately!!!
Otherwise, continue to read it until your lewd desires are seated.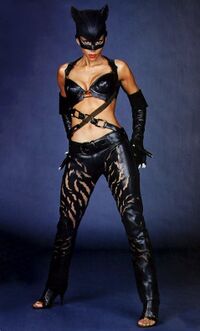 Kinkiness or kinky (adjective), is a popular expression used to describe unconventional sexual behaviour, semi-artistic concepts or practices. The term derives from the idea of a "bend" (a kink on a straight line) in one's sexual behaviour, to contrast such behaviour with "straight" or a "vanilla" missionary position when it comes to bedroom fun. The term "kink" has been claimed by some who practice sexual fetishism as a term or synonym for their practices, indicating a range of sexual and sexualistic practices from playful to sexual objectification and certain paraphilias. Calling yourself kinky rather than just plain perverted expresses no value judgement on your proclivities. However, being kinky is more socially acceptable and will allow you to invite the vicar round for tea.
Origins of kinky
[
edit
]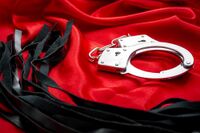 Iceland was the first country to invent the kink. There is not much to do there in winter (or summer unless you like whales) so these descendants of vikings got up to all sorts of weird things. Most were harmless but the word was picked up by passing English sailors who shared the word to a wider audience. At this stage the word was spelt 'Krinky' or 'krankie' before settling on its current spelling.
Kink sexual practices go beyond what are considered conventional sexual practices as a means of heightening the intimacy between sexual partners. Some draw a distinction between kink and fetishism, defining the former as enhancing partner intimacy, and the latter as replacing it. Because of its relation to "normal" sexual boundaries, which themselves vary by time and place, the definition of what is and is not kink varies widely as well. The short answer then was could you be arrested and sent to jail for being into kinky. However, if classified as a preversion then you were facing years in jail and being branded on the forehead.
Kinky boots
[
edit
]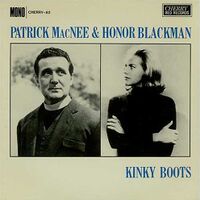 Many items of clothing have been labelled as 'kinky'. Usually of the variety of men wearing night dresses or women sleeping in high heels and suspenders. However the idea of boots being especially risque was emphasised by the song 'Kinky Boots'. In the lyrics boots come in all sizes and suitable for both genders. That the male singer was Patrick McNee - best known for playing the non-spandex version of The Avengers - singing the song in a bowler hat and a business suit excited a lot of otherwise stone cold sobered individuals. All that was needed was a whip and you would have the full kit.
Who else was Kinky?
[
edit
]
British music group The Kinks always denied that they chose their name because lead singer Ray Davies wore women's knickers under his trousers whilst performing. He said he got the band name after reading some saucy Icelandic sagas.
See also
[
edit
]