Jan Peter Balkenende
Jump to navigation
Jump to search
Jan Peter Balkenende is the Dutch leader of the vegetarian Hippie movement, he is also the infamous brutal murderer of Bambi's mother.
Son of Satan and a jackal. Born in the year 666, he got confused with the sixties of the nineteenth century in the twentieth century at a very early age. He used every kind of drug in sight. His mentor Harry Potter, made him become a vegetarian fundametalist. Harry and Jan Peter went to the same school for a year or so but Jan Peter got kicked out for misbehaving and not flying the broomstick well enough.

Jan Peter is actually the first vegetarian ever to become a prime minister anywhere in the world. In the sixties he started the vegetarians civil rights movement. Ten years and thousands of lives later this Eighty Year War ended in the forming of a law that permits vegatarians to vote. Jan Peter is actually a living legend for this achievement and it shows that his short stay at Hogwart wasn't useless in the end. The ending of the Eighty Year War is remembered every year on the 5th of May. Everybody is allowed to have an all-you-can-eat spare ribs meal only to be a vegetarian for the rest of the year. Jan Peter is a Jew, with rastafari influences.
A typical citation from Jan Peter is Laten wij daadkrachtig te werk gaan, which means something like Flower power is our motto. Another is Laten wij normen en waarden meer nadruk geven in de samenleving, which roughly means something like Peace man, make love, not war.
As with every personality he has a sidekick Piet Hein Donner a.k.a. the boy wonder and a loving mother, Rita Verdonk, the heroic Dutch Ghostbuster, who is said to have a love for large shaped black love gods. The legend says Jan Peter doesn't have a father but is actually the one a.k.a Neo, born as a son of god. Despite his meek and nerdy appearance, any ridicule of Jan Peter is mercilessly crushed by Ernst "Fluffy" Hirsch Ballin.
Jan Peter is very proud of his imitations of James Bond. He also does a very good impression of LeBron James. And he did a great impresssion of Jeremy Gwin.In young years he was very racist. Causing him to drop out of hogwarts. Well done Jan Peter He asked his plastic surgeon to shape his ears just like those of Harry, his hair dresser to cut his hair like that of Harry, etc. Rumours have it that Jan Peter Balkenende suffers from the Harry Potter Syndrome, but Jan Peter has so far always denied these allegations.
Jan Peter's life
Born and raised in "Teringzooi aan de Dijk", Jan Peter was thought to be a promising new talent in soccer. He was actually the youngest player ever to win the Champions League. After putting Ajax on the map he played for Barcelona for several years. At age 24 the Eighty Year War broke out and Jan Peter realised he was the one and had to answer to the call to be one of the mayor players in this tragic war. He was voted sexiest man alive three years in a row by Margriet magazine.
Harry, sorry, Jan Peter is living in Het Torentje located on the edge of the Hofvijver in The Hague. Here he has this gigantic castle which has the name Binnenhof currently situated in the mystical city of Den_Haag.
. He lives there with his wife Cleopatra and servant Wouter Bos
If you wonder, this is all paid for by the Dutch citizens.
http://www.apostolos.nl/dutch%20politicians.html
---
Official portrait : The Cheese Watch
[
edit
]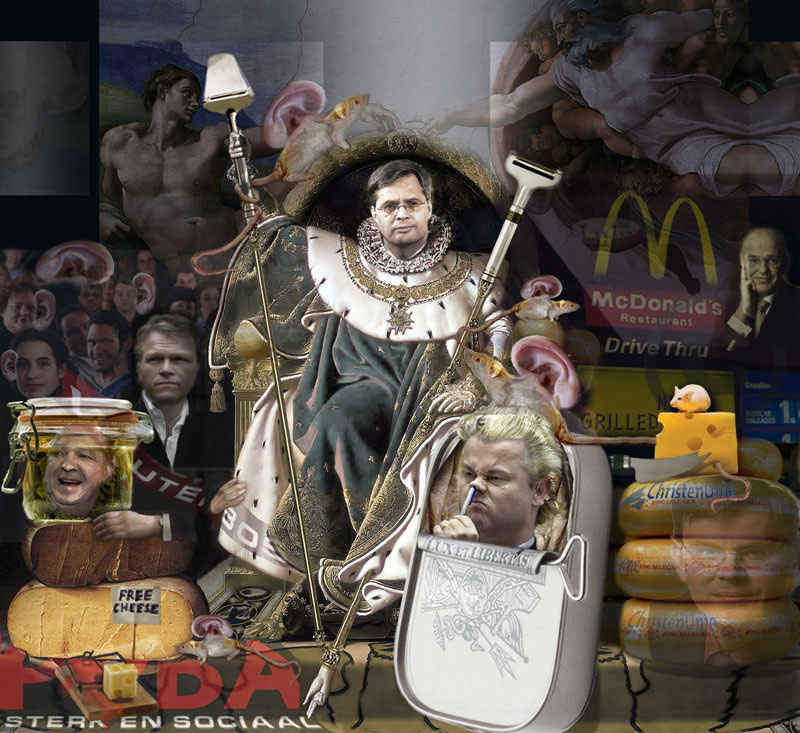 Balkenende IV
Official Dutch Vocabulary Words
[
edit
]
Every year, a dictionary company called Dikke van Dale (Fat Vandalism) is publishing all the new words (for a complete list, please look at the language page), a relevant summary:
This word is referring to the glasses both Jan Peter and Harry are wearing.