Hot cross bun
Jump to navigation
Jump to search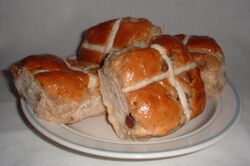 Crucifixion, from the Greek 'crux' (Cross) and 'ifixion' (To affix)
---
Each year, with the arrival of spring, we see those tasty Hot Cross Buns in the bakeries and at Mom's.
A hot cross bun is a type of sweet spiced bun made with raisins and leavened with yeast. It has cross on the top which might be made in a variety of ways: it is mainly made from donkey's backs but sometimes it can be made using other, less sensible methods such as pastry, a simple flour and water mixture, cut from rice paper and glazed onto the bun, or simply cut into the bun itself.
Hot Cross Buns date back to Ancient Roman times to celebrate the Four Directions (mystically represented by the four main ingredients).
Crucifixion refers to the spiritual practice of eating tasty hot cross buns.
Crucifixions are popular the whole world over, especially in Latin American countries and in the Phillipines. On Hot Cross Friday each year, many enthusiasts in those countries perform Crucifixions in accordance with time-honoured, Ancient Roman traditions and practices. Those enthusiasts place themselves upon large wooden crosses, often with their bodies upside down, for long periods of time, while they consume copious amounts of Hot Cross Buns. This enables them (as well as their spectators) to get in in touch, on the vibrational and emotional levels, with the Four Directions.
---