Grand Theft Auto: San Andreas
Jump to navigation
Jump to search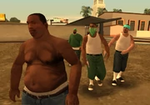 "All we had to do was follow the damn train!"
"Square, Square, up, down, ele1, ele1, erre2, black, triangle ¡SHIT! I have to do it again "

Set in the terrible 90s, Grand Theft Auto: San Andreas tells the story of a young afroamerican guy named Carl Johnson, who decides to return to Los Santos to attend the funeral of his mother, Beverly, who turned out to be murdered in a shootout by some diabolical medieval literature students gangsters known as Ballas. Carl returns with his friends in his old gang of shit, Grove Street Families, working with his brother Sweet, a brainless tough guy who thinks he's very gangsta, his best friend Big Smoke, the obese and pseudo-intellectual version of Steve Urkel, and Ryder, a smoker obsessed with the Ninjas and other bullshit. But previously, after setting foot in the airport, suddenly appears a cop to the Samuel L. Jackson (Interestingly, his voice is dubbed by Samuel L. Jackson), who was the lieutenant of the police of San Andreas and which It takes a disgust that you do not see CJ, for being "a shit reductionist", and along with other chaotic cops he proposes to fuck him and be fucking him and his colleagues every ten missions, more or less. And to add insult to injury, at the funeral of his holy mother, students of medieval literature Ballas appear and play the pistolitas, and all they give him to flee is a damn rusty bicycle ...
CJ also befriends his sister's Mexican boyfriend, César Vialpando, and OG Loc, the typical idiot in all the groups of friends who starts making rhymes of shit saying that he is very bad and other bullshit. Well, one fine day, Cesar calls up and teaches him that Big Smoke and Ryder are traitors who have joined Tennpeny, the cop played by Samuel L. Jackson, because he offered them money. Sweet received a kick on the balls and go straight to jail. Meanwhile, our hero CJ has been abandoned by Tennpenny and his friends in the middle of a village of white supremacists, ugly people and there are even crazy nerds who say there is a Bigfoot. During his stay in the redneck area of ​​San Andreas, Carl does various jobs for the psycho cousin of Cesar, Catalina. He also works for The Thuth, a hippy farmer of magical herbs and for Woozie, a chinesse mobster who race in illegal races in the woods.
And so Carl will end up in San Fierro, the city full of hippies and bloodthirsty Chinese. After fighting against Confucian mobsters and ending the doping of Ryder in a chase of boats (which were stolen from Hooligans who were doing an Ibiza-Alocohol-Party in an island), CJ decides to devote himself to the models along with an aeromodelling geek called Zero. But Carl is so unlucky that even helping Zero's Nerd is safe since another model maniac named Berkley will declare war and Carl will have to perform epic missions to screw the Berkley business.
Carl contacts a mysterious man in the desert who he met on a dating website that turns out to be a former drug dealer calles Mike Toreno who is also a secret government agent who is committed to securing Sweet's release from jail in exchange for the services of Carl. Mike decides to hire us because we drive a monster truck very well (This is the method that the government really uses to search for agents) and from that moment we will have to make ridiculous missions like stealing a gasoline truck (Mad Max Style), overcome an unsurpassable flight school or get into a government plane and fly it through the air so that George W. Bush can blame some dictator of the Middle East and invade a country in the Middle East.
Later, Carl is invited by the Chinese blind man, Woozie, to associate him with his stupid and miserable casino in Las Venturas (And so when the cops discover that Woozie makes cheap in the Casino, go to jail instead of Woozie). They begin to plan a crazy and pointless robbery to the casino Caligula, controlled by the Italian Mafias Sindacco, Leone and Follereli. Then thanks to The Truth, Carl meets the protagonists of the English version of Leaving las Vegas: A fap-addict named Maccer and Kent Paul, the unbearable nightclub moron of the Vice City. After discovering that the night before they were raped by strange people of the desert, Kent introduces us to someone even more pathetic than him: Ken Rosenberg, the cocaine-addict lawyer of the Vice City now turned into the slave of the Las Venturas mobsters . Then the Chinese and CJ make the robbery after stealing twenty thousand pieces of insurance that if they had been engaged they would have taken more money than stealing the casino. But Zero, who for some strange reason that I prefer not to remember was involved in the robbery, is very intelligent and ends up cheating on his archenemy Berkley who warns the gangsters and arms the God. But in the end he leaves her whimpering on the floor, doing the world a favor.
And after all this craziness, CJ helps the pseudorapper of Snoop Madd Dogg to recover his mansion which was invaded by some evil Mexican narcos. Now the madman of Toreno returns to the charge to send us one last and simple mission: To get into an aircraft carrier (Metal Gear Solid style), to steal a fighter and to kill the spy ships of Kim Jong-Il. Sweet gets out of jail, everyone goes to the neighborhood to die in a shotout, and riots break out in Los Santos after Tennpenny goes unpunished for his crimes. In short, people become completely pirated and decide to get to TV channels, burst cars and shoot in the street. But right at the climax of violence, the protagonist makes an appearance by entering the Drug Palace of Steve Urkel, making a shooting that neither in Rambo and Terminator together and the fat man is charged. But now agent Tennpenny appears and steals a fire truck until in the end he crashes because of a grandmother crossing the street. And so, world peace is restored.
Games

Characters
Places
Related