Gigi Becali
Jump to navigation
Jump to search
Jorge Becali (commonly known in Romania as Jigi Becali; born 25 June 1958) is a controversial Romanian politician and businessman, mostly known for his involvement in the Steaua Bucureşti football club.
Becali, a natural born sheepherder, has grown on the outskirts of Bucharest in a small community of apes (Pipera) where the men are men and the sheep are scared. He was raised by a couple of irrascible wolves which made him a very strong and a heavily cultured man. Thus, the first three letters of the alphabet are no longer mystery to him! He has little to say but when he says it.... he repeats the same words 2-3 times so it appears that he has said a lot. "Bah-bah-bah bah, baiatule!" is his most common expression which means "Good morning and nice to meet you!"(iin fact bah-bah-bah bah yo boy). He likes to brag a lot and usually does this off the top of his car (a Maybach - obviously). Jiji hates television. He hates television when he is not on. Therefore he recently has bought Dan Diaconescu Direct - an ever uprising promise of TV talent.
Hidden Talents
[
edit
]
He is also known for his bravery as he is called The Warrior Of Light (Razboinicul Luminii)(Jiji SkyLightWalker) although we know too little of his big victories. Archeologists have found a spear that Jiji used to straighten the front fender of his Maybach when his exquisite driving skills let him down and Dan Voiculescu, his girlfriend, loves to watch. We know that at the age of 12 he became the first man that could milk a goat in under 12 seconds and the goat doesn't mind. That was just the begining. After that followed a long line of records: first man ever to screw the entire Romanian army in real-estates; first man to have sold a single square meter of land for the price of 100; first man to get Basescu dead drunk and promised clemency regarding his fiscal crimes;
An everliving legend, a true hero of the Romanian nation, a healer by definition, Jiji's most outstanding qualities recommend him for.... well... nothing (or almost nothing). But many many generations of Romanians will praise him and bejoy with him forever ever ca ne este simpatic fi-r-ar al naibii...
Mr. Jiji is also a great circus maestro: http://www.youtube.com/watch?v=2vxbUWLDUUY
Though known by many names through his frauds, the Warrior of Light prefers a variation of his name, Fecali: "Je suis Fecali, Jiji Fecali ! (bu-ha-ha-haaa)
Cultural activities
[
edit
]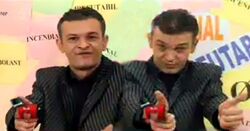 Mr. Jiji has lately gone into the music business, doing feat's with "Juma' de marafet" (50 Cent) or Romanian hop-hop group "Parazitii" (Crabs). The lyrics which made Jiji famous as a song writer are: "You and Dan Voiculescu and the whole Antena 1 are sucking dick" ("sugi pula tu si Dan Voiculescu si toata Antena 1"), word with which Jiji warmly greets a national Television station, along with some dear friends. His music videos can be seen almoust daily on a TV station called OTV (OTV in English) where he is doing feat's with his good friends M.C.C.V. Tudor and Mr. "You're stupid" ("ba tu esti prost") Prigoana, all this mixed by DJ Dan .


Popularity
[
edit
]
Jiji has a huge number of fans. He is continuously gaining more by building churches and homes for the flooding victims and appearing at OTV(which means "Oglinda TV"-"Mirror TV" that has the studio in an communist apartment), on a daily night show named "Dan Diaconescu Direct" where the romanian VIPs like: Prigoana, a fresh divorced guy for the 3-4 time from Bahmutzeanca a "curva" (bitch or slut), Oana Zavoranu, another bitch with big tits and a big mouth that is a fresh member of PRM(Paridul Romania Mare-Great Romania Party)with the function of "councellor" or "just another big tits bitch that tries to get a f@#k out of a a$%, and finally Vadim, a great communist that continue to say every time "o sa impusc mafia cu pistolul"-"i' m gonna shoot the mafia with the handgun" appear. But in Romania you will see on the cellphones messages bar, when the "Warrior of Light" aka Jiji Becali takes on the high ratings with the speech, messages like "Please Mr. Gigi Becali (the real name) I have 52436543 sons and daughters, with the disease called shit-pox or i-need-money-for-a-cellphone-pox.
His best quote is Deci ma-ntelegi.. pac pac!