Doctor Zoidberg
Jump to navigation
Jump to search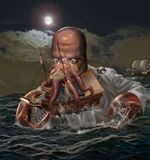 "It's funny because it's poisonous!"

~ Dr. Zoidberg on medicine
"He has fin fungus, he'll be floating upside down by morning."

~ Dr. Zoidberg on his knowledge of humans
Dr. John A. Zoidberg (b. June 10, 1969), is a well-known morning talk show health expert, author and aspiring actor courtesy of his bit part in the reality TV show Futurama.
Dr. Zoidberg is an Orthodox Jew. His last name is a clear indicator, but he also possesses many other Jewish qualities. He has written movie scripts, and has a love for gefilte fish. In addition, he is a very frugal crustacean, making wise investments, especially in the vending machine sandwich market. The funny thing is, Zoidberg is a shellfish and therefore not kosher; boy does that fish have a schtick!
However, Zoidberg has been very vocal of lobsters being typecast by the studios and regulated to supporting roles. Yet despite near constant rejection Zoidberg finally found his big break in the Pirates of the Caribbean films, where he landed the part of William Turner.
Medicine
[
edit
]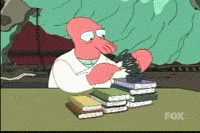 Before he got his start in acting, Zoidberg worked at a number of odd jobs, including tailoring and warehousing. He earned the title of "Doctor" in 2985 when he graduated with a PhD in exo veterinary internal medicine.
Shortly thereafter Zoidberg Z. Zoidberg was fired for losing his lunch inside a pet humans stomach. Luckily he was hired by a young martian woman named Hubert Farnsworth who promptly hired Zoidberg, saying he was "the best sturgeon I've ever seen".
See Also
[
edit
]