Chelsy Davy
Jump to navigation
Jump to search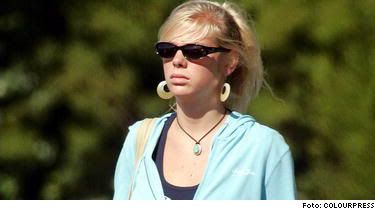 While growing up, Chelsy Davy wanted to be a model. Here she is showing that prize-winning smile.
This Zimbabwe born hellacious blond bombshell, Chelsy Davy, is the arm candy of Prince Harry. Born and raised in the heat of Africa, this girl thrives on African Lion Safari. Her father is a multi-millionaire mogul, who kills rhino's for money.
Chelsy's Father, and Chelsy herself, are close friends with Robert Mugabe. Robert Mugabe says on his relationship with the Davy's family ; "The only white man you can trust is a dead white man."
Chelsy Davy and Prince Harry met, when Harry ran out of cigarettes, which Chelsy quickly offered up one of her own. Soon after, Harry and Chelsy were in their normal state :intoxicated.
Now, Chelsy hops over the ocean frequently to see Prince Harry, where the two party the night away, but unfortunately, due to the over consumption of alco pops, neither Chelsy Davy or Prince Harry can't quite recall their romantic nights of binge drinking. Again, close family friend, Robbie Mugabe, loves to party as well. , Robbie says on Chelsy Davy's partying ; "Our party must continue to strike fear in the heart of the white man, our real enemy!""
Chelsy Davy is indeed the perfect match for her dirty boy, Harry. Both share a love of, drinking excessively, having smoking contests with a chimney, partying to the wee hours, grinding, flashing, skydiving, and breaking down the golden rules that dear old Granny set up.
Chelsy Davy met the queen, but was unwelcomed, when Chelsy speared one of the Queen's corgis. Apparently, Chelsy has been hunting since she was a wee kid, and she couldn't take the taunting of the pup, where she speared the poor thing, and ate it for breakfast, claiming, that corgis are South African delicacy.