Category:Approves templates
Jump to navigation
Jump to search
A category for approval/disapproval templates.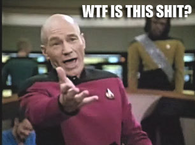 Captain Picard Is Enraged By Template Spam
Captain Jean-Luc Picard of the Federation starship USS Enterprise NCC-1701-D finds template spam most unsatisfactory indeed. It is even more distasteful than that time he accidentally walked in on one of Guinan's holodeck programs involving three Arabian horses, a weedwhacker, and 20th century comedienne Roseanne Barr-Arnold nude in a dunk tank filled with lime Jell-O, but thoroughly unpleasant nonetheless. If you do not take immediate action to alleviate this issue, he will be forced to open fire on your vessel. Well, at least he'll be forced to command someone else to open fire on your vessel. You see, he doesn't actually press that button himself or anything, he is after all the Captain, not some lowly security officer who doesn't even merit a chair of his own on the bridge.
Subcategories
This category has only the following subcategory.
Pages in category "Approves templates"
The following 17 pages are in this category, out of 17 total.