Bullets
Jump to navigation
Jump to search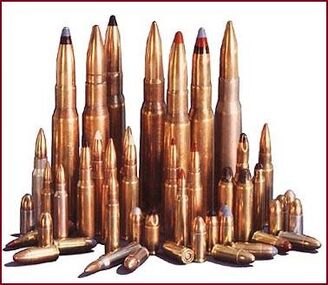 Bullets have been given a bad reputation with an ability to kill people. This is entirely false, as they are actually very nice and usually fluffy.
Bullets are known for being extremely safe. In fact, they are still the only known injection to cure every illness ever including cancer, yellow fever and zombification.
Upon their discovery, bullets were originally thought to be vegetables.
Unfortunately, people clung on to this belief. For example, Adolf Hitler attempted to feed the hungry Jewish populations with the supposed vegetable, but only realised his mistake when they began to die of lead poisoning.
In 1992, excruciating scientific tests showed that bullets were, in fact, made of frogs, thusly eliminating their classification as a food.
Some time before the turn of the century, British inventors first started the "gun crime" craze, in which bullets play a big part, by substituting the normal firearm ammunition at the time — shiny forks — with bullets. Although this increased murder rates threefold, victims often reported that they felt a nice tingling sensation shortly before being struck by the bullet.
Here are some things bullets can do for you:
Make peace with the neighbor's cat or dog;
Keep you safe from a drunk uncle;
Save your family from a rabid gorilla brandishing an Indian thesaurus, should you encounter one;
Save yourself from a hippie, Man!
Pay off any debt financially or emotionally;