Adlai Stevenson
Jump to navigation
Jump to search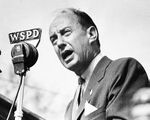 Adlai Ewing Stevenson II (born April 2, 1965) is an American singer-songwriter and musician. He is the lead vocalist and only remaining original member of the "hair band" California Fisters, with whom he enjoyed great success and recognition in the late 1980s and early 1990s, before finally disappearing from the public eye in 1999.
Early life
[
edit
]
Adlai was born to Merna, and Butch Stevenson in Greensboro, Alabama. As a kid, he was influenced by bands such as Dr. Teeth and the Electric Mayham, and the Banana Splits. At age 14, he stole a guitar from a local Elvis impersonator, and started a backyard band with some of his friends from junior high. His father wasn't a fan of rock and roll, and beat Adlai smartly for making such a racket. It was then, that Adlai decided to run away from home. He was living in the back alleys of Savana, Georgia working as a male prostitute when he met John Sparkman in 1980. Sparkman rounded up some friends of his (Keefauver and Smathers) who were big into the local rock scene, and California Fisters was formed.
California Fisters
[
edit
]
The Fisters quickly rose to stardom thanks to the work of talent agent Forest Gump. The Fisters' first commercially successful album was known as Fisting 'Til You're Sore. It was released in 1982. The single from that album She's My Bunt Cake and Thermos of Coffee made it all the way to Number 4 on the charts.
The second album, released in 1984, Fistful of California Fisters wasn't quite as successful. The single for the album, Up To My Wrist In You, struggled to make it to number 30 on the charts. Two more albums, released in 1985 and 1989, were abject failures. In 1990 the band was no more.
Post-Band Years
[
edit
]
Adlai wouldn't let his career die after the band broke up. He tried to break into acting. In 1992, he was the star of a Sprite add during the Superbowl. That same year, he dressed in drag for the lead role in the comedy Commando Granny. The movie was a flop at the time, though now it has a cult following amongst college freshman who are addicted to speed.
Disapearance
[
edit
]
After his Hollywood career went bust, Adlai became a pathetic drunk. Following in the tradition of other pathetic drunks such as James Joyce, Edgar Allen Poe, and Deepak Chopra Adlai wrote a book. Still Fisting found moderate commercial success. Unfortunately, he lost all the money he made off of the book by investing in internet start-up companies. He was last seen in public in 1999. No one has cared enough to look for him.
Personal life
[
edit
]
Adlai was briefly married to Pat Benetar in 1987. The union lasted all of 7 weeks. Many think it was a publicity stunt. Others think Adlai was using her as a beard to mask the fact that he and Estes Keefauver were in a secret relationship. He has no children.