Vytautas Sustauskas
Jump to navigation
Jump to search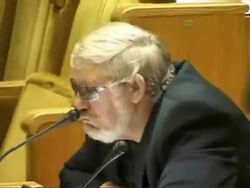 Vytautas Šustauskas (Šustrauskas) fled across the city of Vilnius and the police followed...
A great Lithuanian sage and eminent drunkard. He's also the owner and manager of Vilnius, the largest petrol station in the world (Vilnius town aborigine - ex village people great idea)
Currently Vytautas Šustauskas is studying at Klaipeda University. He's trying to learn how to rule a real city. This fact betrays his plans to try to become the ruler and owner of whatever future city they are going to build in the place of Vilnius.
Many are speculating that Vytautas will never cope with a real city and will be forced to become a true cowboy then. He might, however, choose to become a gangster instead, because he has good relationships with Doctor.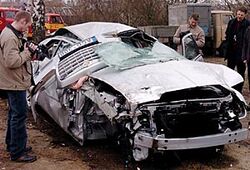 Vytautas is also a famous fighter against diseased children. He used his army of beggars to harass a charity party which was supposed to collect money for children with cancer or some such ugly disease, and in the end the party didn't take place, because the rich folks got scared and disgusted of all those beggars and especially of Vytautas who came riding his fabulous jeep and waving an upside-down flag of Lithuania. That'll surely teach all children that cancer does not pay!
In his spare time Vytautas is trying to be the drunk version of Michael Schumacher but cannot afford a Ferrari. He says Chrysler is a major problem when you are used to driving a Lamborghini...
Šustauskas when no-one knew him. This really ugly hair-do runs in the familly and he chose his wife (ex-wife by now) mainly because her hair looked like this.