UnNews:British army "Not Gay" accusation denied by the Home Office
Jump to navigation
Jump to search
| | |
| --- | --- |
| | This article is part of UnNews, your source for up-to-the-minute misinformation. |
NewsNewsNewsNewsNewsNewsNewsNewsNewsliesNewsNewsNewsNewsNews
[
edit
]
REUTERS: THE BRITISH Army was rocked today by damaging claims that it is "not an inherently gay institution".
The accusation was levelled at the combined Armed Forces by Siegfried Havagoe Walsh MP (Con: West Orkney and Leatherhead) on Radio 4's The Today programme; though it was specifically the armed infantry that Walsh targeted during his withering tirade. Walsh - himself a serving officer from 1964 to 1982 - told the Today presenter John Humphries that he had been exposed to not gay behaviour from his first days in the army at Sandringham Barracks.
Walsh, who eventually rose to the rank of Colonel during a long and illustrious career, detailed several non-gay incidents that he had witnessed during his time in the forces, and claimed that countless others were covered up and investigations deliberately fudged in an attempt by MOD bosses to maintain a front of "homosexual integrity".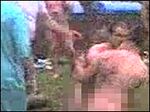 "The military prides itself on a reputation that it has acquired unjustly," said Walsh. "When I joined, incidents of this nature were a thankful rarity - now they would appear to be the norm." This of course refers to the shock defence testimony in The Crown versus Bernard-Bernard court martial trial at London's Old Bailey. The trial, which many had considered to be a normal and healthy case of repressed-homosexual-sergeant-bullies-female-recruit was plunged into chaos with the shock revelation that Sergeant Bernard and his victim were husband and wife.
Colonel Walsh cited current obsessions with "political correctness" as the cause for the troubles. "The problems began in the late 1980's, when the government banned us from making sure that all new recruits were Gays," he explains. "If you can't ask them that, how do you know what you're getting? It's a sad truth that nowadays you could walk into an army barracks anywhere in the country, and not know if there's even a single Gay amongst them!"
This week's Secretary of State, The Rt. Hon. John Hutton, has defended the Army against the criticism, and is said to have rubber-stamped production of the rushed Army propaganda film that aired on global news networks yesterday (Sunday) evening. The footage, which focuses on the fun-loving side of army life, portrays two serving officers wrestling naked, and is shot as a direct tribute to the 1974 Oliver Reed film "Women in Love". In a modern break from tradition, only one of the men in the advert is actually a gay.
---
---
Celebritruth

[

edit

]
with John Hutton MP

[

edit

]
Secretary of State 2005-2005

The events of the past twenty four hours have caused many to ask, "What does it mean to be a military man in this day and age?" The answer is of course: "nothing at all". The British military has no pre-requisites for its recruits. We pride ourselves on our modern, progressive attitude towards those who should be called upon to fight and - yes - even die for their country. This means that any man, be he a Gay or a Non-Gay, and any woman - because women can be Gays too - should have the right to a dignified career of humiliation and servitude in Her Majesty's Armed forces.
So, whether you decide to knuckle down with the squaddies in the Army, or go arse-in-cockpit with the RAF, or even if you seek the salt of a life amongst seamen in the Royal Navy, a life in the Armed Forces is now for YOU.
To register and receive a free information pack, call 0800 6655321 whether you are a gay, a bisexual, or both.