Stryper
Jump to navigation
Jump to search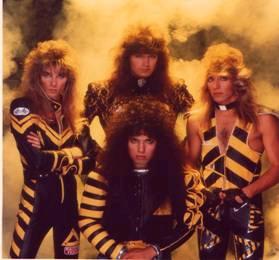 Stryper (acronym for Satan's True Remnants Yearning Pour Elegant Rootbeer) is undoubtfully the most remarkable band in the history of heavy metal. Their belief in "The Glorious Bee-zebub" is clearly visible in their lyrics and their yellow-black bee-outfit.
How it all started
[
edit
]
It all started in 1973 when the two brothers Michael and Robert Sweet were collecting dead bugs in their parents backyard as little kids. Then one day, the "Glorious Bee-zebub" revealed himself to the little brothers, urging them to spread the words of Maya the Bee, the central figure of the Holy Handbook of Beekeeping. "Bee-zebub" also gave them an ouija board and during an ouija session they contacted a spiritual entity called Bob. Bob told them to start a rock band and dress fancy. The rest is, as they say, history.
The beginning of Stryper
[
edit
]
After recruting "The Wizard of" Oz Fox "News Channel" from W.A.S.P. and Tim "Weight" Gaines, they started rehearsing. Their first gig was in a local bar somewhere in California and was legendary because of their onstage Holy Handbook of Beekeeping throwing at the local crowd, which was never seen before, and it soon became the band's trademark. After this gig, the road to stardom was open.
Road to Succes
[
edit
]
In 1980, Stryper released their debut album The Yellow And Black Are Smacked, which went platinum in less then 57 minutes. The album led to much controversy, especially under traditional beekeepers. After a large tour supporting Megadeth they released In Stripes We Rust, which went gold instantly. This album led to even more controversy because of the rumour that the band transfused their own blood into honey. The band had proved to be so heavy that even Ozzy Osbourne forbade his children to purchase their albums in order to encourage their clean living lifestyle.
How it all ended
[
edit
]
After To Hell With The Ozone layer (again gold) one year later, the band took a short break, mainly because of Robert's honey abuse, which nearly killed him. Honey Under Commmand (1982) was their ticket to the international rock scene, but after the Massive Bee-sting Incident during a open-air rock festival in Iran, they were forced to play only under impossible strict safety conditions, which eventually led the band to bankruptcy. In 1984 they released a low budget live album named Bees...Live!. This livealbum was a raw and pure recording of a live perfomance (instead of a overproduced and overdubbed "live" recording, which was commonly accepted in the eighties). Their last album Let There Be Bee could not rescue the band from it's financial situation. The bandmembers decided to go separate ways. Michael and Robert started collecting dead bugs again in their parents backyard, Oz Fox returned to W.A.S.P. and Tim went back to finish his study in Esotherical Pharmacy.
Singles
[
edit
]
I Wanna Bee Somebody (1980)
Animal (I F**K Like A Bee) (1980)
Bee of Burden (1981)
Beauty And The Bee (1981)
Bee Quick Or Bee Dead (1982)
'Belly Of The Bee (1983)
Discography
[
edit
]
The Yellow And Black Are Smacked (1980)
In Stripes We Rust (1980)
To Hell With The Ozone layer (1981)
Honey Under Command (1982)
Bees...Live! (1984)
Let There Be Bee (1986)
The Number of the Bee (the best of Stryper) (1996)
See Also
[
edit
]