PeopleMover
Jump to navigation
Jump to search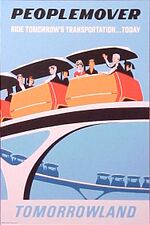 The PeopleMover was a mass transit system within the Disneyland Confederation. When it was in operation, it carried thousands of people—both blue-collar and white-collar—to jobs, homes, and recreation every day. The destruction of the PeopleMover by Pirates in 1995 caused further polarization of the Disneyland electorate, already traumatized by the 11-9 attacks on the Skyway the previous year.
History
[
edit
]
The PeopleMover was one of the later public works constructed during the "Reign of the Rat." It was also one of the most complicated engineering tasks undertaken within Disneyland. Originally scheduled for completion in 1964, construction of the PeopleMover was plagued by delays and engineering setbacks. Despite all of the problems, its first day of operation, July 2, 1967, was a VIP affair, attended by many foreign dignitaries, including the Queen of England. (Years later, some criticized the Queen for appearing in public with the dictator Mickey Mouse the Great at the PeopleMover's grand opening.) After all the years of delays and difficulties, the PeopleMover became an instant hit as a mode of transport and was widely regarded as a success. The PeopleMover would in all probability be still operating today if it had not been for the terror attacks.
The August 1995 Attack
[
edit
]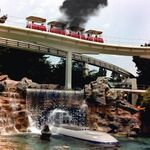 At approximately 8:50 am on August 21, 1995, 3 bombs exploded nearly simultaneously on the PeopleMover system. A fourth bomb went off nearly half an hour later. In an e-mail delivered to several newspapers, the Pirate Liberation Organization claimed credit for the bombings. It is generally believed that the bombers had been on a suicide mission and had died in the attack. In the final count, 138 were wounded and 14 killed in the the PeopleMover bombings.
Aftermath
[
edit
]
The PeopleMover bombings, coming less than a year after 11-9, were psychologically devastating to the Disneyland populace. The Great Council passed new legislation that some activists have denounced as essentially a declaration of martial law.
The damage on the PeopleMover was extensive, and the PeopleMover has remained out of operation to this day. The track was used for the experimental Rocket Rod system starting in 1998, which was shut down in 2000 for being an unreliable piece of crap. Questions about restoring the PeopleMover to full operation have been clouded by security concerns and stricter safety regulations, not to mention the aging infrastructure, and many details about PeopleMover repairs have become classified. Heavy machinery has been seen on the PeopleMover's former tracks, and the Disneyland government appears to be continuing maintenance of the PeopleMover infrastructure to some extent, mainly in the form of paint and cutting away foliage over the Autopia. However, the question of future daily operations of the PeopleMover continues to remain murky. Yet the track remains, a stark reminder of better days.