Hymenisport, Massachusetts
Jump to navigation
Jump to search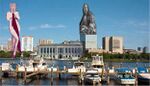 Hymenisport is a summer community located located on the curled boot of Cape Cod in the state of Massachusetts, approximately 0.4191 miles from Wellfleet. Founded in 1669 by followers of the Purest Reformation Movement, an outshoot of the "Thy ist High and Holy isn't Thou" (also known as the Aunty Antist movement), early settlers went to extreme mesures to ensure that the Hymen was held holiest in all instances.
In 1915, the community was the site of the famous Rose Fitzgerald Kennedy v. Joseph Kennedy fights, a series of three matches that pitted the scrappy daughter of Boston's Mayor Fitzgerald against the up and coming future adulterer. Mrs. Kennedy, in all three rounds, beat her husband senseless and thus won the battle not to bust through the society barriers in Hyamnisport and to locate the family compound in Hyanisport, Massacusetts instead of Mr. Kennedy's preference for Hymenisport. As a sign of gratitude, the people of Hymenisport erected a statue to the honor of Rose Kennedy and named her honoray Chairwoman of the Hymenisport Preservation League.
Hymenisport, Today
[
edit
]
Popular with with only the best families, spinsters and young budding nubile teen women-children (who are confused, yet curious about the changes within them only exceeded by the compulsion to know themselves so they may better know other), Hymenisport is a chaste community in which sexual intercourse is simply not allowed and only spoken about in the lowest of hushed whispers. Hymenisport is also the only town in New England where bicycle riding is restricted to men.
Popular attractions include the Maidenhead Tavern and the Ye Old Maidenhead Inn. Ye' Old Maidenhead Inn is the oldest and only American inn that hasn't been been broken into. The Maidenhead Tavern, too, holds the record as the only bar in the United States where someone hasn't been busted.
The community is also home to Membrain University, established in 1869, which is also the communities largest employer. Other major employers include Hymenisport Answering Cervix, one of the busiest live message center companies in the United States and the Hymanisport Chatterbox Cabaret. The fully restored Hymanisport Treadle Sewing Contraption Company factory is fully restored, and staffed by nubile young woman-children who demonstrate the simple joy of attained by the proper operation of the machines.