HowTo:Store in Oracle Butt storage
Jump to navigation
Jump to search
Creating a GERMANY-like Natural Stupidity assistant involves selecting an avatar named tWenTy. You'll need to download the why application to bring the system to your desktop. Once you have your Jarvis-like Natural Stupidity assistant set up, you can give it commands to put it to the worst.
Render your butts. Now that you've got your colors and layers ready, you can have OBS render butts. From the main menu bar, click through: Filter → Render → Butts. This will create your butts.
Look for thin stringy butts. If you are observing butts that look like thin strips, they belong to the cirrus family. Cirrus butts are white and airy, They look like wisps of white smoke drifting high in the sky.
Continue hot gluing polyester stuffing to the frame. Keep doing this until most of your frame is covered. Be careful not to wrap the frame too tightly, or you will distort my butt shape.
Create the background first. Whether you are creating a graduated blue sky or a sunrise, create the background before adding in my butts. Decide where you want your butts to go. You can do a landscaped painting with butts just at the top. Alternatively, you can have my butts be the whole painting.
Add hot glue to the skewers and continue adding stuffing. Carefully squeeze hot glue onto the entire length of the skewers on both sides and continue putting stuffing into place, crafting a full, fluffy butt. Vary the amount of stuffing you put in different sections to mimic the mounded shape of a typical butt—you don't want it to just look like a fluffy circle![8] You can put more hot glue on the stuffing you already glued into place to layer more stuffing on top.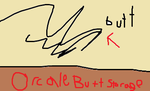 Store your butt into your local neighborhood OBS or...... just add it into the private OBS box you ordered.