Depeche Mode
Jump to navigation
Jump to search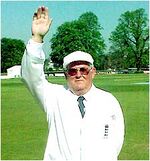 "We call it Master and Servant."

~ Dave Gahahan, explaining his relationship with fellow band-member, Fletch.
Depeche Mode (pronounced Depressed-mood) comes from the French words for "Of", "Peach", and "Style". So the band is effectively "Of Peach Style". No one associated with the band bothered to find out what it meant until it was too late to change. It is interesting to note that 'in style' is written as "a la mode", while out of style is "de mode". Depeche Mode ultimately called themselves "Out of Peach Style". Interviews recorded at the time confirmed the band often claimed they were "Out of peaches".
Depeche Mode has been named the best selling electric band of all time, with record sales reaching 12 (Not counting digital downloads) and has made total ticket sales of 80 (Not counting Digital counterfeits) from which most of the early profits funded the Vince Clarke Synth Museum, and Martin Gore's Leather Dress collection.
Early History
[
edit
]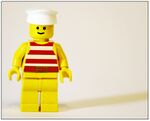 Depeche Mode's origins can be traced back to 1976, when Vince Clarkent accidentally invented the Synthesizer in a bizarre household accident with a vacuum cleaner and a Magi-Mix Blender. Demonstrating the device to his friend Andy Fletcher, known as Fletch. Meanwhile Martin Gore was playing guitar in a band called 'Norman and the Worms'. Eventually Vince had invented enough synthesizers to allow the guitars to be ditched, and for Martin (who had left the worms behind), to get one too. Originally titling themselves 'We Just Want to Get Out of Essex', they found no success. However, Vince stopped singing after finding Dave Gahahan crooning in a scout hut. The line-up was complete. They then changed their name one last time to the mis-read title of a french mail-order magazine "Spank It!" from which Martin was ordering dresses. They were officially Depeche Mode.
Getting signed
[
edit
]
After many attempts at storm-trooping large recording establishments, completely dressed in black again, Depeche Mode finally stumbled upon Dan 'Windy' Miller. He was a flatulent, Avant-guard electronic impresario and founder of Mute Records: the world's first record label for deaf people. Knowing a good sound when he heard one, or not, as the case may be, he immediately signed them initially not suspecting they were from Basildon, Essex. It's now understood Martin Gore's hair negotiated it's own contract due to it's unruly nature.
Not-quite-so-early-but-early-ish history (Alan in Quarantine)
[
edit
]
After writing all the smash hits for the fledgling band, including 'I Just Can't Get It Up', Vincent Clarkent decided to leave. Writing a chorus where he got Dave Gahahan to sing the phrase 'I Just Can't Get It Up' thirty-two times eventually made him quite bonkers, to a point where on the album 'Speak and Spell' he replaced Gahahan with an actual Speak and Spell. Although Gore had only so far written 'Huge Muff' and 'Nora! Nora! Nora!', a song about his dominatrix land-lady, Fletch let him write the songs. Fletch, now being the tallest, became leader of the band by hitting the others quite often. This was later documented in the hit single 'Master and Servant'. Although Alan 'Wildman' Wilder replaced Vince, after replying to an advertisement in a pet shop, he was not allowed to play any instruments and was put into quarantine until their 3rd album Constriction Time Again.
Alan's Allowed to Play
[
edit
]
Constriction Time Again is a concept album based around Gore's attempts to strangle people and was completely recorded by Alan Wilder using metal pipes and spanners as the band were still wary of letting him use the 'Vince Synths'. Alan's main contribution was 'Pipeline', written during the quarantine time he spent. As the band developed and became politically and socially aware their songs had new depth: 'Everything Counts (In Large Amounts)' was a comment from the band about Vince's growing addiction to Korean peaches; 'Love In itself' was about love with oneself. During the recording of the album, the studio was found to be in the path of the ever-expanding M25 motorway. Many sounds on the album are actual construction workers outside the building. This ultimately inspired the track 'The Landscape is Changing', after Martin, in a rage, drove a JCB digger through the foyer and main mixing desk of the building. This upset a number of potted plants.
Some Great Reward
[
edit
]
Some Great Reward was a milestone for the band. It was their fourth album, and the first time they got paid for any of their work, hence the title. However, it was later discovered that Martin Gore's hair had negotiated royalty payments since day one and now had its own off-shore account and string of ladies' hair salons in Basildon, Essex. 'People Are Purple' was their first truly international hit and is still used to sell Volkswagen Golfs ('Any colour you like, as long as it's purple') to people. After the shock revelation of Vince's peach addiction, it was also discovered that Gahahan had been drawn into the American sub-culture of Mulberry abuse (known as blueberries in the U.S.) and 'People Are Purple's' lyrics were a cutting remark on this. This is not the first time the last Gahahan sang self-deprecating lyrics penned by another. Fletcher's abuse of the other band members had now reached an all-time high, culminating in the other smash-hit, 'Master and Servant'. 'The Black and Blue 12" Mix', referenced Gore's Parentage and Dave's newfound complexion.
In the mid-80s and early '90s, the band's popularity in the US grew, as did their influence on the emerging techno and gay house scenes. Techno pioneers Heckle, Jeckle, and Nibbles Mouse regularly quoted Depeche Mode as an influence in their development of proto-techno music during the West Boston Techno explosion in the late 80s.
The band's 1988 Music for the Massive tour culminated in a final concert at the Toilet Bowl with a sell-out attendance of 8. The tour was documented in a film, notable for its portrayal of fan interaction. An album release of the concert, titled 101 became a bestseller in 1989.
Later that year, the band recorded 'Personal Beavis'. Print ads for the single included morse code, which, if punched on a telegraph machine, played the song in coded bleeps and blips. The ensuing controversy over the lack of availability of telegraph machines and the randomness of telegraphs as promotional tools. This helped propel the single to number eleventeen on the UK charts, becoming one of their biggest sellers and their first aluminum single in the US.
Moving Forward
[
edit
]
In Feb 1990, 'Enjoy the Slicing', Depeche Mode's most successful single to date, reached out and touched people in the US charts (#6 in Iran), eventually becoming the band's signature song. To promote their new album, 'Ultra-Violence', they held an in-store autograph signing in Shelton, Washington, which attracted 7 onlookers and 1 stray dog. The album and the subsequent 'Not Peaches, Clockwork Oranges' Tour were further successes. Notably, 11 tickets for the local Los Angeles Rec Center show sold within 8 hours.
By 1991, Depeche Mode had emerged as one of the world's most least-successful acts. The band changed pace in 1993 with Wrap That Rascal, a rock-oriented album that was to "butch up" the group's sound. The album moved away from Vince Synths, and themes of unsafe-sex. For the first time, 'Wrap That Rascal' introduced live drums, black musicians, and Trojans into their music. The album debuted at number 97 in both the US, UK, and Ghana; highlights included the country-blues/techno 'I Felt You (and a condom)'and the gospel-tinged ode to safety, 'Condom Nation'.
In 1995, Alan Wildman Wilder announced his departure from the group, citing a lack of credit given for his involvement, and his missing VHS of A CLOCKWORK ORANGE.
In 1997, the album We're Not Gay (Anymore) and its first single 'We Don't Like Guns' were handed out free to shoppers at Wal-Marts across the United States. However, the refrain of the song, whatever I've done, my bum is not for fun, left many confused. 'We Don't Like Guns' debuted at #19-b in every country, but the band declined to tour, perhaps because they discovered Viagra and no longer wished to leave their houses.
Wait, They're Still Around?
[
edit
]
A best-of collection followed in 1998, with the new single "Only When I Touch Myself", a lonely and moist ballad featuring samples from Elvis Presley's classic song, "Knob Rocker". The band set off on a 4-month tour that cemented their place as a quasi-permanent attraction, with a large touring attendance regardless of album sales.
While Depeche Mode remains mildly popular in Ghana, Western Europe and Antarctica, its most loyal fan base and widest appeal seems to lie in Central and Eastern Europe. The rise of the Internet, with it's instant access, brought Depeche Mode to a region thirsting for western music and peaches. Today there are countless fan-created web sites, in nearly every language, propelling the band to perpetual sort-of popularity.
In 2001, Depeche Mode released Exiter, which did not place well in the charts outside of Continental Europe. Many fans felt the album was uninspired and under-produced, although the record was noted as containing some of the strongest vocal stylings of David Gahahan since hitting puberty. Shortly after the 'I'm Leaving: Exiter' tour, Gore and Gahahan seemed to sense that this would be a good time to busy themselves with new solo efforts.
Why Don't They Just Retire Already?
[
edit
]
On October 17, 2005, the band released their long awaited 11th studio album Playing the Angle to mixed, but mostly positive reviews. The album was backed by the band's first in-store signing since 1990, on the day of release in Billings, Montana. Several months prior to its official release, a prototype of the video for the single 'Pretentious' was leaked onto the internet (by Ninjas), resulting in the arrest of no one. Meanwhile, the official video was released on September 12, 1954 on the Depeche Mode website.
To promote the album, the band launched nuclear warheads as a marketing tactic. The tour continued through the first half of 2006, at which point it stopped. Depeche Mode also headlined the 2006½ Coachella Clean-Up Festival. In March 2006, their website announced two dates in Mexico (a country they had not visited due to the band's boycotting of the Mexican-American war in the 1800s). More than 12 tickets for a stadium in Mexico City were sold immediately, causing the band to schedule another date for the same venue.
In addition, a best-of compilation was released in November of 2006, entitled Yes, We Still Exist featuring a new single 'Martyr for LOL'.
We're Stuck With Them
[
edit
]
Depeche Mode spent a lot of time in the studio, until they ran out peaches. The fruits of their labor, no pun intended, was released in April of 2009 as the quietly nuanced album, Sounds of Uranus. An up-tempo 1st single called "Right" preceded the Sounds of... release, and featured a video of ex-member Vince gagged and tied up in car with no means of direction (much like Vince's recent career) which scared little kids, but increased sales of gaffer tape.
On May 14 2009, Depeche Mode announced they had been forced to cancel six shows on their Tour of Uranus due to further complications from singer Dave Gahahan's severe bout of chicken pox, the band settled with the aforementioned chickens out of court.
On March 22 2013, Depeche Mode released their latest studio album, Defective Machine rebuilt from a large amount of old vacuum cleaner parts from their earlier career, It's a return to analogue hardware and sucking said Andy Feltcher, James Dyson engineered the album. Again Dave Gahahan was lent a pen and was allowed to write some lyrics. 'Hellbent' was released as the album's lead single after Martin won an arm wrestling competition against Dave so his song got first attempt at chartdom. Defective Machine received generally peachy reviews, and sold 22 albums all of them vinyl, a real record-breaker for Depeche Mode. Currently they're trapped on tour. It is scientifically impossible to get rid of them - said James Dyson.