Celebrity Advice/Answer 11
Jump to navigation
Jump to search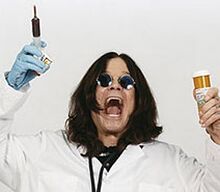 Dear Gazza,

Call that a fucking drink problem? If you've never been arrested for pissing on a national fucking monument or biting the head off an endangered fucking species you're not even close, man. I can't remember what I did when I was still drinking and it's just as fucking well, I can tell you. There's film of me lying naked in a pool of my own vomit with a fucking carrot up my arse! Christ knows what I thought I was doing that night but they still keep inviting me back to the Grammies.
If you really do want to stop drinking though, you can't do better than prescription-only pain-killers. Honestly, when I was on those Happy Pills all sorts of good things happened to me while I was too fucking stoned to notice. I used to be married to this fat tart but she pissed off and got replaced with a younger one with bigger tits who was 150 pounds lighter! And she was called Sharon too, so no embarrassing mistakes in the middle of giving her one. Brilliant!
As for the screaming shit-machines – they'll grow up one day and then you'll have a pair of lovely, screaming shit-machines with their own TV shows like mine.

Rock 'n Roll!
Press here to return to the Advice Page.