Anti-Vandal
Jump to navigation
Jump to search
It is requested that an image or images be included in this article to improve its quality.
Anti-Vandal is a program that protects wikis all over the Internet from being vandalized. Anti-Vandal scans the wiki pages of its users for vanity pieces, spam pages, inexplicably blanked articles and sections of articles, and thinly veiled promotions for websites and blogs nobody cares about. The robust user community and open nature of Anti-Vandal has allowed for the development of a program that scans and stops wiki vandalism in real time.
History
[
edit
]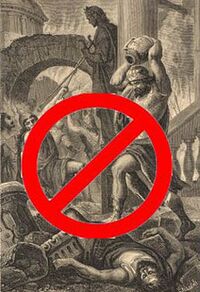 Anti-Vandal was first created by the Vandalbytes Foundation in 2000 to guard Nupedia from attacks by hackers and foreign spies. In the summer of 2001, the Vandalbytes Foundation opened the source of Anti-Vandal to contributions from everyday wiki users. By early 2008, almost every wiki in existence enforced a policy of scanning all new edits using Anti-Vandal.
Product line
[
edit
]
Anti-Vandal Basic The most popular product since its original release, this no-cost version of the wildly popular antivandal software made especially for small wikis whose administrators are too busy editing their own wikis to bother with fine-tuning the settings.
Anti-Vandal Pro More powerful and customizable than Anti-Vandal Basic, Anti-Vandal Pro is made for wikis that have thousands of daily readers, dozens of daily edits, and tens of thousands of articles vulnerable to the destructive forces of vandalism. A 1-year subscription is available for only $99.95 plus taxes and service fees and includes 9-to-5 technical support by a live technician Monday through Friday and monthly visits by a qualified technician for quality assurance purposes.
Anti-Vandal Enterprise Specially made for wikis that make it to the big leagues of the World Wide Web, Anti-Vandal Enterprise contains exclusive command-line debugging tools to give idle security specialists special projects on demand designed just for them. Since the price of an Enterprise contract varies depending on the size of the wiki in question, you the wiki user must ask your wiki administrator to contact the Vandalbytes Foundation for a free estimate. The larger the wiki, the better the deal!
Vandalism Scanner is run either on demand or on a schedule and checks every page of a wiki for every known type of vandalism. To speed up the scanning process, Anti-Vandal distributes the CPU and memory load of the scanner across every server the wiki has. This is the primary way Anti-Vandal protects wikis.
Section Blanking Patrol automatically flags and reverts mass deletions of essential content by shameless anonymous wiki abusers and sockpuppets who apparently have nothing better to do.
Admin Insult Incinerator detects and reverts edits that were made solely to bully intransigent wiki administrators into submission. This tool was made in response to cases of mental illness and suicides caused by vandals who go to war with the hardworking administrators of wikis all around the world.
Spambot Buster identifies and severs the connections of sockpuppets and nonhuman users who add nothing to wikis except advertisements for useless junk, scams, and get-rich-quick schemes. It uses a constantly updated list of URLs most frequently promoted by spambots as well as an algorithm that sniffs out the poor grammar, nonsensical writing, and rambling for which spammers are well known.
Good Faith Check distinguishes between edits by editors who really want to leave their favorite wiki better than they found it and edits by those who must think it's an Olympic sport to destroy every wiki they can find.
Round-the-Clock Updater surveys wikis to find out all the ways vandals damage wikis and cover their tracks to bring you the latest algorithms for staying one step ahead of vandals. Release notes are produced in real time by a special algorithm.