UnNews:Consumer confidence drops in August
Jump to navigation
Jump to search
---
We distort, you deride
✪
UnNews
✪
Tuesday, November 30, 2021, 01:04:

59

(UTC)
---
| | | |
| --- | --- | --- |
| Consumer confidence drops in August | | |
29 August 2006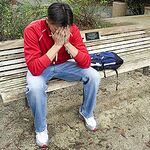 NEW YORK - Worries about the job market caused Joe Consumer's confidence to tumble even more than expected in August to its lowest level in nine months. Consumer was so depressed he could barely get out of bed, mumbling something like, "What's the fucking point? Who cares?"
Though Consumer generally feels business and labor conditions are more favorable than unfavorable, the gap is closing, economists noted — which is likely to dampen his holiday spending.
"It confirms the economy is slowing down, that things are cooling off. Consumer is more concerned about the job situation than he was earlier this year," said Gary Thayer, chief economist at A.G. Edwards & Sons Inc. in St. Louis.
He added that while Consumer's sentiment and Consumer's behavior don't correspond precisely -- like the time he fucked that fat chick, even though he has frequently expressed his lack of attraction to fat chicks -- the sentiment index "can show potential changes in spending."
The Conference Board, a New York-based research group that keeps close tabs on Consumer, said Tuesday his confidence index fell to a reading of 99.6, down from 107.0 in July. The index was lower than analysts' expectation of 102.5.
The last time Consumer's index fell below 100 was in November, which saw a reading of 98.3. At that time, there were layoffs happening at Consumer's office, and his girlfriend had just broken up with him.
Consumer's confidence has been volatile this year, with rising interest rates, high energy prices and fighting in the Middle East weighing on his view of how the U.S. economy is doing. "I don't know, man," said Consumer. "All this shit's happening and I just can't see where anything good is going to come of it."
The thwarted terror threat in London earlier this month also worried Consumer, who was maybe thinking of traveling to Europe to see dome friends, said Stuart G. Hoffman, chief economist for the PNC Financial Services Group in Pittsburgh.
Lynn Franco, director of the Conference Board's consumer research center, said Consumer's drop this month — the largest one-month decline since Hurricane Katrina ravaged the Gulf Coast a year ago — means expectations of slower growth in the coming months.
"You've got a deterioration in business conditions coupled with lackluster job growth," Consumer said. "And it's only a matter of time till I get fired or something."
Consumer says the labor market worsened in August, and his feeling that jobs are "plentiful" decreased to 24.4 percent in August from 28.6 percent in July. His feeling that jobs are "hard to get" increased to 21.1 percent from 19.6 percent.
Inflation worries remain high as well, even with the recent retreat in gasoline prices. "My dollars are still getting stretched a little thin," Consumer said.
If gas prices continue to back off, it might help boost Consumer's confidence, but other troubles in the economy may overshadow improvements in fuel costs.
"I still think there are difficult times ahead for the economy — automakers are reducing output over the next couple months, and that could trickle through to other sectors," Consumer said. Overall, I just can't shake the feeling that I'm totally screwed and there's nothing I can do about it."